Rapid Review USMLE Step 3
,
Paperback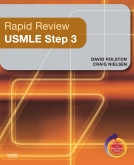 Free Shipping!
This item has low stock levels and may be back-ordered. We'll let you know if it is back-ordered, and you will not be charged until the item ships.
Get the most from your study time...and experience a realistic USMLE simulation. This new addition to the Rapid Review Series makes it easy for you to master all of the material covered on the USMLE Step 3 Exam. With 100 high-quality USMLE-style review questions inside the book, another 125 online through STUDENT CONSULT, and full feedback on all your answers, this book is the perfect formula for success on the exam.
Provides an at-a-glance, outline-format review of all the information you need to know.
Makes studying easy with a user-friendly 2-color layout.
Offers 100 high-quality USMLE-style review questions inside the book, with a full rationale for why every possible answer is right or wrong.
Delivers another 125 USMLE-style questions online at www.studentconsult.com—mirroring the look and feel of the actual exam, and providing detailed feedback on which areas you may need to study more.

1. Neurology

a.) Alzheimer's Disease
b.) Brain Abscess
c.) Brain Death
d.) Cerebral Vascular Disease
e.) Headache
f.) Meningitis
g.) Multiple Sclerosis
h.) Muscular Dystrophy
i.) Parkinson's Disease
j.) Seizures
k.) Subarachnoid Hemorrhage
l.) Transient Ischemic Attacks
m.) Multiple Choice Review Questions


2. Ophthalmology

a.) Anatomy of the Globe and Orbit
b.) Cataracts
c.) Conjunctivitis
d.) Diabetic Retinopathy
e.) Eyelid and Lacrimal System Pathology
f.) Glaucoma
g.) Hypertensive Retinopathy
h.) Multiple Choice Review Questions

3. Otorhinolaryngology

a.) Allergic Rhinitis
b.) Epistaxis
c.) Head and Neck Cancer
d.) Hearing Loss (Sensorineural)
e.) Otitis Externa
f.) Otitis Media
g.) Sinusitis
h.) Tonsil and Adenoid Inflammation
i.) Upper Airway Obstruction
j.) Vertigo
k.) Multiple Choice Review Questions

4. Pulmonlogy

a.) Acute Respiratory Failure
b.) Asthma
c.) Chronic Obstructive Pulmonary Disease
d.) Interstitial Lung Disease
e.) Obstructive Sleep Apnea Syndrome
f.) Pleural Effusion
g.) Pneumothorax
h.) Pulmonary Embolism
i.) Sarcoidosis
j.) Tuberculosis
k.) Multiple Choice Review Questions

5. Cardiology

a.) Angina Pectoris
b.) Arrhythmias and Conduction Disorders
c.) Cardiomyopathy
d.) Congestive Heart Failure
e.) Endocarditis
f.) Hypertension
g.) Murmurs
h.) Myocardial Infarction
i.) Pericarditis
j.) Rheumatic Heart Disease
k.) Superficial Thrombophlebitis
l.) Varicose Veins
m.) Multiple Choice Review Questions

6. Gastroenterology

a.) Acute Diarrhea
b.) Acute Gastritis
c.) Cirrhosis
d.) Colorectal Cancer/Familial Adenomatous Polyposis
e.) Constipation
f.) Crohn's Disease
g.) Diverticular Disease
h.) Esophageal Cancer
i.) Food Poisoning
j.) Irritable Bowel Syndrome
k.) Lactose Intolerance
l.) Lower GI Bleeding
m.) Peptic Ulcer Disease
n.) Ulcerative Colitis
o.) Upper GI Bleeding
p.) Multiple Choice Review Questions

7. Psychiatry

a.) Adjustment Disorders
b.) Anxiety Disorders
c.) Attention Deficit Hyperactivity Disorder
d.) Delirium and Dementia
e.) Eating Disorders: Anorexia, Bulimia, and Obesity
f.) Mood Disorders
g.) Personality Disorders
h.) Schizophrenia
i.) Somatoform Disorders
j.) Substance Abuse
k.) Multiple Choice Review Questions

8. Rheumatology

a.) Bursitis
b.) Fibromyalgia
c.) Gout
d.) Infectious Arthritis
e.) Joint Effusion, Synovial Cysts, and Ganglia
f.) Osteoarthritis
g.) Osteoporosis
h.) Polymyalgia Rheumatica and Temporal Arteritis
i.) Pseudogout
j.) Rheumatoid Arthritis
k.) Systemic Lupus Erythematosis
l.) Multiple Choice Review Questions

9. Orthopedics

a.) Carpal Tunnel Syndrome
b.) Common Neoplasms of the Musculoskeletal System
c.) Fractures, Sprains, and Strains
d.) Low Back Pain
e.) Osteomyelitis and Septic Arthritis
f.) Pediatric Orthopedics
g.) Multiple Choice Review Questions

10. Dermatology

a.) Acne
b.) Actinic Keratosis
c.) Atopic Dermatitis
d.) Basal Cell Carcinoma
e.) Cellulitis and Erysipelas
f.) Common Warts (Verrucae Vulgaris)
g.) Contact Dermatitis
h.) Dermatophyte Infections
i.) Genital Warts
j.) Herpes Zoster
k.) Impetigo
l.) Keloids and Hypertrophic Scars
m.) Malignant Melanoma
n.) Psoriasis
o.) Pyogenic Granuloma
p.) Scabies
q.) Squamous Cell Carcinoma
r.) Syphilis
s.) Yeast Infections (Candidiasis)
t.) Multiple Choice Review Questions

11. Endocrinology

a.) Adrenocortical Hypofunction
b.) Anterior Pituitary Disorders
c.) Cushing's Syndrome
d.) Diabetes Mellitus
e.) Disorders of Calcium Balance
f.) Hyperthyroidism
g.) Hypoglycemia
h.) Hypothyroidism
i.) Posterior Pituitary Disorders
j.) Thyroid Neoplasia
k.) Multiple Choice Review Questions

12. Urology

a.) Acute Renal Failure
b.) Benign Prostatic Hypertrophy
c.) Chronic Renal Failure
d.) Cystitis
e.) Kidney Stones (Nephrolithiasis)
f.) Nephritic Syndrome
g.) Nephrotic Syndrome
h.) Prostate Cancer
i.) Prostatitis
j.) Pyelonephritis
k.) Urethritis
l.) Multiple Choice Review Questions

13. Obstetrics and Gynecology

a.) Abnormal Pap Smear
b.) Abnormal Uterine Bleeding
c.) Abortion
d.) Abruptio Placenta
e.) Amenorrhea
f.) Benign Breast Disease
g.) Cervical Cancer
h.) Contraception
i.) Ectopic Pregnancy
j.) Endometriosis
k.) Genetic Counseling
l.) Infections During Pregnancy
m.) Infertility
n.) Leiomyoma
o.) Menopause and Hormone Replacement
p.) Ovarian Cancer
q.) Pelvic Inflammatory Disease
r.) Placenta Previa
s.) Preeclampsia and Eclampsia
t.) Prenatal Testing
u.) Preterm Labor
v.) Uterine Cancer
w.) Multiple Choice Review Questions

14. Hematology and Oncology

a.) Acute Leukemia
b.) Chronic Myelogenous Leukemia
c.) Non-Hodgkin's Lymphoma
d.) Hodgkin's Disease
e.) Anemia
f.) Hemophilia
g.) von Willebrand's Disease
h.) Sickle Cell Disease
i.) Thalassemia
j.) Lung Cancer
k.) Breast Cancer
l.) Colon Cancer
m.) Multiple Choice Review Questions

15. Internal Medicine

a.) Adult Vaccinations
b.) AIDS
c.) Deep Venous Thrombosis
d.) Hyperkalemia
e.) Hypernatremia
f.) Hypokalemia
g.) Hyponatremia
h.) Infectious Mononucleosis
i.) Influenza
j.) Lyme Disease
k.) Medical Ethics
l.) Nutritional Deficiencies
m.) Pneumocystis carinii Pneumonia
n.) Pneumonia
o.) Rabies
p.) Statistics in Medicine
q.) Tetanus
r.) Multiple Choice Review Questions

16. Emergency Medicine

a.) Advanced Cardiac Life Support
b.) Advanced Trauma Life Support
c.) Altered Mental Status
d.) Anaphylaxis
e.) Head Injury
f.) Hemorrhagic Shock
g.) Poisoning
h.) Septic Shock
i.) Syncope
j.) Multiple Choice Review Questions

17. Pediatrics

a.) Bronchiolitis
b.)

David Rolston, MD, Staff Physician, Department of General Internal Medicine, Cleveland Clinic, Cleveland, OH and Craig Nielsen, MD, Staff Physician, Department of General Internal Medicine, Cleveland Clinic, Cleveland, OH