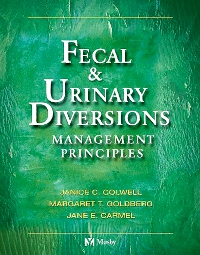 Publication Date:
05-06-2004
Fecal & Urinary Diversions, 1st Edition
Paperback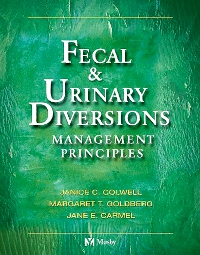 Publication Date:
05-06-2004
Free Shipping!
This item has low stock levels and may be back-ordered. We'll let you know if it is back-ordered, and you will not be charged until the item ships.
Dedicated to fecal and urinary diversions, this comprehensive reference book features information on the history of enterostomal therapy, anatomy and physiology of diseases that necessitate intestinal or urinary diversions, pouching system management principles, ostomy related complications, care of the cancer patient as well as the patient with chronic disease, and current trends and issues affecting the person with an ostomy. Current topics covered include intestinal diversions requiring temporary diversions, medical and surgical treatments for inflammatory bowel disease, colo-rectal cancers advances and ischemic intestinal disease. Fecal and Urinary Diversions: Management Principles is a valuable resource to students, nurses, physicians, surgeons, and any health professional caring for a person with an ostomy.
Covers lifespan considerations to address the special needs of patients of all ages.
Includes an 8-page color insert with 25 full-color photos illustrating ostomy-related complications to help nurses improve their assessment skills.
Offers a unique framework for pouch selection to help nurses choose the most effective and cost-conscious options.
Covers coping and quality-of-life issues to guide nurses in handling these important patient and professional considerations.
Features practical, step-by-step guidelines for pouching, irrigation, and other techniques.
Provides review questions and answers to help evaluate learning and prepare for certification or recertification.

Part I: Overview
Chapter 1 History of Stoma Creation and Surgical Advances
Chapter 2 Roles of the Ostomy Nurse Specialist: Historical Perspective,
Role Potential

Part II: Fecal Diversions
Chapter 3 Anatomy and Physiology of the Gastrointestinal Tract
Chapter 4 Inflammatory Bowel Disease: Medical Management
Chapter 5 Inflammatory Bowel Disease: Surgical Management
Chapter 6 Gastrointestinal Cancers: Medical Management
Chapter 7 Gastrointestinal Cancers: Surgical Management
Chapter 8 Gastrointestinal Etiologies Leading to a Fecal Diversion

Part III: Urinary Diversions
Chapter 9 Anatomy and Physiology of the Urinary System
Chapter 10 Urinary Diversions Surgical Interventions

Part IV: Fecal and Urinary Diversion Management
Chapter 11 Preoperative and Postoperative Management
Chapter 12 Principles of Stoma Management
Chapter 13 Pediatric Ostomies: Pathophysiology and Management
Chapter 14 Stomal and Peristomal Complications
Chapter 15 Ostomy Adjustment

Part V: Related Issues
Chapter 16 Medications Affecting Ostomy Function
Chapter 17 Tube Management
Chapter 18 Fistula Management
Chapter 19 Outcomes Measurement
Chapter 20 The Use of Telemedicine in Ostomy Management
Chapter 21 Accelerated Surgical Stay
Chapter 22 Intestinal Transplantation
Chapter 23 Minimally Invasive Surgical Techniques
Chapter 24 Innovative Approaches to Fecal Incontinence

Glossary
Appendixes
A. Discharge Resources
B. Ostomy Related Resources: Clinician and Patient Related
C. Nutritional Resources
D. Fact Sheets

Janice C. Colwell, RN, MS, CWOCN, Clinical Nurse Specialist, University of Chicago Hospitals, Chicago, IL, Margaret T. Goldberg, RN, MSN, CWOCN, Delray Medical Center, Delray Beach, FL and Jane E. Carmel, RN, MSN, CWOCN, Program Co-Director, Wicks Wound, Ostomy and Continence Nurses Educational Program, Mechanicsburg, PA