The Clinician's Guide to Treating Cleft Palate Speech
,
Paperback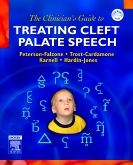 Free Shipping!
This item has low stock levels and may be back-ordered. We'll let you know if it is back-ordered, and you will not be charged until the item ships.
This pocket-size handbook provides brief summaries about the effects of clefts and non-cleft velopharyngeal inadequacy (VPI) on communication development in children. Its clinical focus covers the diagnosis and management of the resulting disorders with information presented in a quick-reference format, including many bulleted lists, tables, and helpful illustrations. While this book is a complete work on its own, there is some referencing of the larger textbook Cleft Palate Speech that provides background on research and theory, as well as additional illustrations.
A clinical focus provides readers with the nuts and bolts of cleft palate speech diagnosis and therapy and reflects the realities of clinical practice in which differential diagnoses and management are the order of the day.
Bulleted lists, tables, and helpful illustrations provide quick reference and easy access to key information needed in the day-to-day practice.
Authors are highly respected experts in the field of motor speech disorders.
Tables and boxed text give easy access to important information.
Companion CD-ROM with video of clinical material illustrates case material through demonstrations of speech problems and therapeutic approaches.

1. Effects of Cleft Palate and Non-Cleft VPI on Speech Development in Babies and Toddlers
2. Other Effects in Babies and Toddlers
3. Effects of Cleft and Non-Cleft VPI on Speech in Older Children
4. Understanding Instrumental Evaluation of VP Function
5. Understanding the Physical Management of Clefts and Non-Cleft VPI
6. Perceptual Diagnosis of Speech Problems
7. Sequenced Speech-Language Intervention in the Infant, Toddler, and Preschool Year
8. Articulation Therapy
9. Special Therapy Techniques

Sally J. Peterson-Falzone, PhD, Professor Emeritus, Center for Craniofacial Anomalies, University of California, San Francisco, CA, USA, Judith Trost-Cardamone, PhD, Professor, Department of Communication Disorders & Sciences, California State University-Northridge, Northridge, CA, USA, Michael P. Karnell, PhD, Associate Professor, Department of Otolaryngology-Head and Neck Surgery, Department of Speech Pathology and Audiology, University of Iowa, Iowa City, IA, USA and Mary A. Hardin-Jones, PhD, Professor, Division of Communication Disorders, University of Wyoming, Laramie, WY, USA