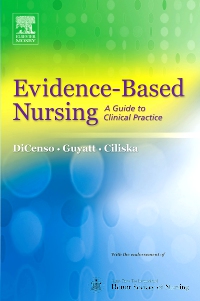 Publication Date:
01-10-2005
Evidence-Based Nursing, 1st Edition
Paperback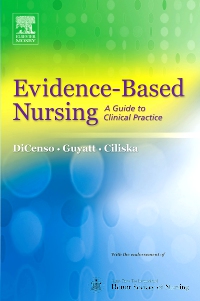 Publication Date:
01-10-2005
Free Shipping!
In Stock
This item has low stock levels and may be back-ordered. We'll let you know if it is back-ordered, and you will not be charged until the item ships.
Evidence Based Nursing is written in response to numerous requests by nurse practitioners and other graduate faculty for a nursing literature resource. This reader-friendly, accessible guide features plentiful examples from the nursing literature and the addition of specific nursing issues such as qualitative research, with direct application for clinical practice. The guide enables nurses to: frame their clinical questions in a way that will help them find the evidence to support their opinions; distinguish between strong and weak evidence; clearly understand study results; weigh the risks and benefits of management options; and apply the evidence to their individual patients to improve outcomes. Part One provides a basic approach to the problems faced by nurses when determining optimal care, predicting patient progress, and protecting patients from potentially harmful side effects, in addition to including a literature assessment summary and management recommendations. Part Two expands on Part One, providing concrete examples through case studies.
This is the only book of its kind that helps nurses use the nursing literature effectively to solve patient problems.
Three-step approach to dissecting a problem — to help find the best evidence and improve patient care, most questions can be divided into three parts: (1) Are the results valid? (2) What are the results? and (3) How can I apply the results to patient care?
Part One - The Basics: Using the Nursing Literature provides a basic approach to the problems faced by nurses when determining optimal care, predicting patient progress, and protecting patients from potentially harmful side effects and includes a literature assessment summary and management recommendations.
Part Two - Beyond the Basics: Using and Teaching the Principles of Evidence-Based Nursing expands on Part One, providing concrete examples through the presentation of cases.
Two-part organization helps both beginners and those more accomplished at using the nursing literature.
Clinical Scenario provides a brief but detailed description of a clinical situation that requires the application of research through a critical thinking process.
Using the Guide examines a clinical scenario, and then evaluates the way in which research findings are collected, analyzed, and applied to the resolution of the problem presented in the scenario.
Free CD-ROM contains everything found in the book, allowing for electronic outlining, content filtering, full-text searching, and alternative content organizations.

PART I - The Basics: Using the Nursing Literature
Chapter 1: Introduction to Evidence-Based Nursing
Chapter 2: Finding the Evidence
Chapter 3: Health Care Interventions and Harm: An Introduction
Chapter 4: Health Care Interventions
Chapter 5: Harm
Chapter 6: Diagnosis
Chapter 7: Prognosis
Chapter 8: Qualitative Research
Chapter 9: Summarizing the Evidence Through Systematic Reviews
Chapter 10: Moving from Evidence to Action Using Clinical Practice Guidelines
Chapter 11: Changing Nursing Practice in an Organization

PART II - Beyond the Basics: Using and Teaching the Principles of Evidence-Based Nursing
Unit I: Health Care Interventions
Chapter 12: Quality of Life
Chapter 13: Surrogate Outcomes
Chapter 14: Surprising Results of Randomized Controlled Trials
Chapter 15: The Principle of Intention-to-Treat
Chapter 16: When to Believe a Subgroup Analysis

Unit II: Health Services Research
Chapter 17: Health Services Interventions
Chapter 18: Economic Evaluation
Chapter 19: Computer Decision Support Systems

Unit III: Diagnosis
Chapter 20: Clinical Manifestations of Disease
Chapter 21: Differential Diagnosis
Chapter 22: Clinical Prediction Rules

Unit IV: Summarizing the Evidence Through Systematic Reviews
Chapter 23: Publication Bias
Chapter 24: Evaluating Differences in Study Results
Chapter 25: Fixed-Effects and Random-Effects Models

Unit V: Understanding the Results
Chapter 26: Bias and Random Error
Chapter 27: Measures of Association
Chapter 28: HypothesisTesting
Chapter 29: Confidence Intervals
Chapter 30: Measuring Agreement Beyond Chance
Chapter 31: Regression and Correlation

Unit VI: Moving from Evidence to Action
Chapter 32: Number Needed to Treat
Chapter 33: Applying Results to Individual Patients
Chapter 34: Incorporating Patient Values
Chapter 35: Interpreting Levels of Evidence and Grades of Health Care Recommendations
Chapter 36: Recommendations about Screening

Appendix
Glossary
Index
CD-ROM Installation Instructions

Alba DiCenso, RN, PhD, Professor, Nursing & Clinical Epidemiology & Biostatistics, CHRSF/CIHR Nursing Chair in Advanced Practice Nursing, McMaster University, Hamilton, Ontario, Canada, Gordon Guyatt, MD, MSc, Chair, Evidence-Based Medicine Working Group; Professor, Clinical Epidemiology and Biostatistics and Medicine, McMaster University, Hamilton, Ontario, Canada and Donna Ciliska, RN, PhD, Professor, Nursing, McMaster University, Hamilton, Ontario, Canada