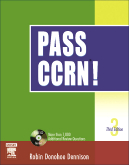 Free Shipping!
In Stock
This item has low stock levels and may be back-ordered. We'll let you know if it is back-ordered, and you will not be charged until the item ships.
2007 AJN Book of the Year Award Winner

Pass CCRN! is the ultimate resource for nurses preparing to take the Critical Care Nursing Certification Examination. This book contains a review of critical care nursing and practice questions and answers designed to prepare nurses to earn AACN certification (or renew AACN certification) by passing the required exam. Utilizing an outline format and the revised blueprint for the certification examination, it's the easy to follow, comprehensive and portable, quick-study tool that nurses can take anywhere.
Easy-to-follow outline format quickly and clearly delineates the essential content nurses must know to pass the CCRN exam.
Appendixes on normal laboratory values and frequently used formulae are invaluable for review and reference.

Follows the 2006 AACN exam blueprint with a guide to the new exam printed inside the front cover of the book for quick reference.
Offers significantly updated content throughout, including new information on abdominal surgery, anemias, beating-heart surgery, enteral feeding, pain management, spiritual aspects of care, and more.
The completely restructured bound-in CD offers endless practice exams from a bank of over 1,000 questions, self-assessment quizzes by body system or chapter, customizable quizzes with instant feedback on answers with detailed rationales and test-taking strategies.
A new chapter on Critical Care Pharmacology provides review of the most common medications.
Features new illustrations in every chapter to bring the information to life.
Includes new information on critical care patients with special needs, to help readers care for bariatric and geriatric patients, high-risk obstetric patients, and others.
Offers updated case studies to illustrate clinical reasoning and decision-making in realistic situations.
Offers new Learning Activities in each chapter, including all-new crossword puzzles and many exercises revised to reflect the updated content.
Includes an in-book study guide to assist with preparing for the PCCN exam.

1. The Critical Care Certification Examination

2. Cardiovascular System: Physiology and Assessment

3. Cardiovascular System: Pathologic Conditions

4. Pulmonary System: Physiology, Assessment, and Ventilatory Support

5. Pulmonary System: Pathologic Conditions

6. Neurologic System: Physiology, Assessment, and Intracranial Hypertension

7. Neurologic System: Pathologic Conditions

8. Gastrointestinal System

9. Renal System

10. Endocrine System

11. Hematologic and Immunologic Systems

12. Multisystem

13. Professional Caring and Ethical Practice

Appendices

A. Selected Nursing Diagnoses Commonly See in Critically Ill Patients

B. Common Abbreviations Used in Critical Care

C. Normal Laboratory Values

D. Formulae Significant to Critical Care Nursing

E. Critical Care Pharmacology: Selected Drugs Frequently Used in Critical Care

Robin Donohoe Dennison, DNP, RN, CCNS, CEN, CNE, Associate Professor of Clinical Nursing, College of Nursing, University of Cincinnati, Cincinnati, OH