Nurse Anesthesia Secrets
,
Paperback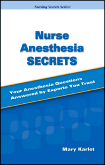 Free Shipping!
This item has low stock levels and may be back-ordered. We'll let you know if it is back-ordered, and you will not be charged until the item ships.
Nurse Anesthesia Secrets, part of the Nursing Secrets series, provides certified registered nurse anesthetists (CRNAs) and nurse anesthesia students with a comprehensive review of topics relevant to nurse anesthesia practice. Organized in an easily accessible question & answer format, the text includes clinically relevant topics, such as equipment, anesthetic management for patients with specific disorders, pharmacology, anesthetic considerations for specific surgical procedures and many more. This format also provides an easy-to-use and comprehensive reference that helps everyone from the busy practitioner researching a case management issue to the student researching and preparing a plan of care.
Lists 50 Top Secrets of nurse anesthesia practice in the front matter for quick reference.
Features Key Points boxes to emphasize the most important material in the chapter.
Provides Internet Resources in each chapter for further studying and reference.
Uses an effective two-color layout to provide answers to the most commonly asked questions regarding nurse anesthesia practice.
Designed for nurse anesthesia students and CRNA practitioners.
Highlights intraopertive monitoring, anesthesia techniques, anesthesia implications of specific disorders, and anesthetic management for specific surgeries.
Section I. Anesthesia Equipment and Monitors describes important concepts for safe monitoring and patient positioning during anesthesia.
Section II. Clinical Pharmacology describes common medications used or encountered in the perioperative period. Indications, mechanisms of action, and side effects are highlighted.
Section III. Disorders and Disease States describes physiologic principles and anesthesia principles associated with specific systems. The anesthetic management of patients with specific disorders is also covered.
Section IV. Surgical Procedures describes common surgical procedures and their anesthetic management.
Section V. Special Patient Populations describes important anesthetic management concepts for selected patient groups, including geriatric, obese, and pediatric patients.
Section VI. Regional Anesthesia and Pain Management describes commonly used regional anesthesia techniques and key concepts regarding pain management.
Section VII. Special Considerations describes miscellaneous concepts that are relevant to nurse anesthesia practice, including professional structure, legal terminology, and latex allergy.

I. Anesthesia Equipment and Monitors
1. The Operating Room
2. The Anesthesia Machine
3. Anesthesia Circuits
4. Airway Management
5. EKG Monitoring
6. Standard Patient Monitors
7. Advanced Hemodynamic Monitors
8. Patient Positioning

II. Clinical Pharmacology
9. Inhalation Anesthetics
10. Induction Drugs
11. Narcotics and Benzodiazepines
12. Neuromuscular Blocking Agents
13. Cholinesterase Inhibitors and Anticholinergic Drugs
14. Inotropes and Vasoactive Drugs
15. Local Anesthetics
16. Antiemetics and Diuretics
17. Drugs Affecting Coagulation
18. Herbal Products

III. DISORDERS AND DISEASE STATES
19. Cardiovascular Disease
20. Respiratory Disease
21. Neurological Disorders
22. Musculoskeletal and Neuromuscular Disorders
23. Fluid and Electrolyte Disturbances
24. Coagulation and Hematologic Disorders
25. Fluid Management and Transfusion
26. Acid-Base Balance
27. Renal Disease
28. Gastrointestinal Disorders
29. Liver Disease
30. Endocrine Disorders

IV. Surgical Procedures
31. Genitourinary Surgery
32. Ophthalmic Surgery
33. Orthopedic Surgery
34. Vascular Surgery
35. Cardiac Surgery
36. Ear, Nose, and Throat Surgery
37. Non-Cardiac Thoracic Surgery
38. Neuroskeletal Surgery
39. Neurosurgery
40. Laparoscopic Surgery

V. Special Patient Populations
41. Obstetrical Anesthesia
42. High Risk Obstetrical Anesthesia
43. Neonatal Patient
44. Pediatric Patient
45. Geriatric Patient
46. Outpatient Anesthesia
47. Trauma
48. Burn Patient
49. Obesity

VI. Regional Anesthesia and Pain Management
50. Spinal Anesthesia
51. Epidural Anesthesia and Analgesia
52. Intravenous Regional Anesthesia
53. Peripheral Nerve Blocks
54. Pain Management

VII. Special Considerations
55. Latex Allergy
56. Temperature Disturbances
57. Cardiopulmonary Resuscitation
58. Devices for Managing Cardiac Arrhythmias
59. History and Organizational Structure of the Nurse Anesthesia Profession
60. Legal Terminology

Mary C. Karlet, CRNA, PhD, Director, Nurse Anesthesia Program, Duke University School of Nursing, Durham, NC