Mosby's Critical Care Drug Reference
,
Hardcover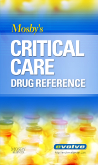 Free Shipping!
This item has low stock levels and may be back-ordered. We'll let you know if it is back-ordered, and you will not be charged until the item ships.
Mosby's Critical Care Drug Reference is a critical care drug handbook that covers all of the drugs commonly administered in critical care settings, as well as those prescription, over-the-counter, and complementary and herbal preparations that have an impact on a patient's health while in the critical care setting. Its authoritative content has been carefully tailored to meet the needs of critical care providers.
Up-to-date drug monographs focus on the drugs and the types of drug information that critical care providers need to know for day-to-day clinical practice.
Organized into two parts: Part 1 covers selected drug classifications in quick-reference tables. Part 2 is an A-Z drug reference consisting of concise, critical care-focused drug monographs.
Each drug monograph includes Critical Care Considerations that are clinically oriented and focused on the unique needs of critical care providers. Critical Care Considerations include coverage of administration and handling, precautions, monitoring, and serious reactions.
Unique "Overdose/Toxicity" and "Antidote/Dialysis" sections provide essential content not found in any other critical care drug handbook.
Includes clinically important over-the-counter and complementary/herbal agents that can have profound implications for patients in critical care settings.
A 2-color design highlights key information for quick and easy access.
Color thumb tabs facilitate quick information retrieval.
Handy appendices cover quick-reference information that is vital in the critical care setting.

A-Z Drug Entries

Drug Classifications

*ACE Inhibitors
*Acid Secretion Inhibitors
*Angiotensin 2 Receptor Antagonists
*Antianxiety Agents
*Antidyshrhythmics
*Antibiotics
*Anticoagulants
*Anticonvulsants
*Antidepressants
*Antidiabeteics
*Antidiarrheals
*Antidotes
*Antifungals
*Antihistamines
*Antihyperlipidemics
*Antihypertensives
*Antipsychotics
*Beta Blockers
*Bronchodilators
*Calcium Channel Blockers
*Cephalosporins
*Corticosteroids
*Diuretics
*Hemantinic Iron Preparations
*Immunosuppressive Agents
*Miscellaneous Analgesics
*NSAIDs and Cox-2 Inhibitors
*Opioid Analgesics
*Proton Pump Inhibitors
*Salicylates
*Triptans


Appendices

Index