Mosby's Pediatric Drug Consult
,
Paperback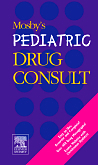 Free Shipping!
This item has low stock levels and may be back-ordered. We'll let you know if it is back-ordered, and you will not be charged until the item ships.
Mosby's Pediatric Drug Consult is a portable drug handbook that includes all essential data pediatric nurses need for administering the most commonly-used generic and trade name drugs. Extensive pediatric considerations are presented for each drug in a concise, practice-oriented framework. The information for this comprehensive pediatric drug source is derived from the extensive database maintained for Mosby's Drug Consult, containing the most current drug information. Quarterly online drug updates are available on a companion website.
Full monographs on the most commonly used drugs in pediatric practice
Functional order of headings that follow a logical clinical progression
Outstanding consultant team of pediatric and pharmaceutical experts
Extensive pediatric considerations in a concise, practice-oriented framework
Detailed IV drug information for pediatric patients
A quick reference with a listing and page references to commonly administered drugs
Critical nursing considerations to identify situations that require special attention
Functional two-color design that highlights key information for quick, easy reference
Flexible, water-resistant cover that provides durability in the clinical setting
Twenty full-color photographs of commonly prescribed medications to help in identifying drugs by their appearance
Appendices include comparative drug charts, conversion tables, and other reference information.
Free updates are available on a companion website.

Unit 1 Anti-Infective Agents
1. Aminoglycosides
2. Antifungal Agents
3. Antiretroviral Agents
4. Antitubercular Agents
5. Antiviral Agents
6. Carbapenems
7. Cephalosporins
8. Macrolides
9. Penicillins
10. Quinolones
11. Tetracyclines
12. Miscellaneous Anti-infective Agents
Unit 2 Antineoplastic Agents
13. Alkylating Agents
14. Antibiotics
15. Antimetabolites
16. Antimitotic Agents
17. Cytoprotective Agents
18. Hormones
19. Monoclonal Antibodies
20. Miscellaneous Antineoplastic Agents
Unit 3 Cardiovascular Agents
21. Angiotensin-Converting Enzyme (ACE) Inhibitors
22. Angiotensin II Receptor Antagonists
23. Antiarrhythmic Agents
24. Antihyperlipidemics
25. Beta-Adrenergic Blocking Agents
26. Calcium Channel Blockers
27. Cardiac Glycosides
28. Sympatholytics
29. Vasodilators
30. Vasopressors
31. Miscellaneous Cardiovascular Agents
Unit 4 Central Nervous System Agents
32. Antianxiety Agents
33. Anticonvulsants
34. Antidepressants
35. Antiemetics
36. Antimigraine Agents
37. Antiparkinson Agent
38. Antipsychotics
39. CNS Stimulants
40. Narcotic Analgesics
41. Narcotic Antagonist
42. Non-Narcotic Analgesics
43. Nonsteroidal Anti-inflammatory Drugs (NSAIDs)
44. Sedative-Hypnotics
45. Skeletal Muscle Relaxants
46. Miscellaneous CNS Agents
Unit 5 Gastrointestinal Agents
47. Anticholinergics and Antispasmodics
48. Antidiarrheals
49. Histamine (H2) Antagonists
50. Laxatives
51. Proton Pump Inhibitors
52. Miscellaneous Gastrointestinal Agents
Unit 6 Hematologic Agents
53. Anticoagulants
54. Antihemophilic Agents
55. Antiplatelet Agents
56. Hematinics
57. Hematopoietic Agents
58. Plasma Expanders
59. Miscellaneous Hematologic Agents
Unit 7 Hormonal Agents
60. Adrenocortical Steroids
61. Antidiabetic Agents
62. Estrogens and Progestins
63. Oxytocics
64. Pituitary Hormones
65. Thyroid Agents
66. Miscellaneous Hormonal Agents
Unit 8 Immunomodulating Agents
67. Antirheumatic Agents
68. Immune Globulins
69. Immunologic Agents
Unit 9 Nutritional and Electrolyte Agents
70. Minerals and Electrolytes
71. Vitamins
Unit 10 Renal and Genitourinary Agents
72. Cholinergics
73. Diuretics
74. Spasmolytics
Unit 11 Respiratory Agents
75. Antihistamines
76. Antitussives (Non-narcotic)
77. Bronchodilators
78. Lung Surfactants
79. Nasal Decongestants
80. Respiratory Inhalants and Intranasal Steroids
81. Miscellaneous Respiratory Agents