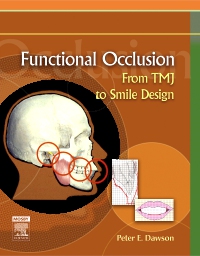 Publication Date:
07-31-2006
Functional Occlusion, 1st Edition
Hardcover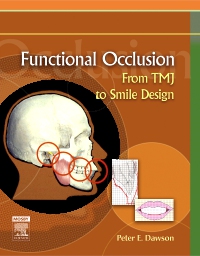 Publication Date:
07-31-2006
This book uses an interdisciplinary approach to explain the origin of and possible solutions to many different occlusal problems. Dr. Peter E. Dawson guides the reader along the way providing balanced explanations of theory and technique. He also debunks many popular misconceptions through practical discussion of their origins and the deficiencies of the arguments behind them. Different sides of many philosophies are presented while guiding the reader to the most functional and esthetic solution to various occlusal situations. Hundreds of full-color photographs, illustrations, and diagrams show aspects of the masticatory system, the epidemiology of occlusal problems, and procedures for finding the ideal occlusion. Whether the reader is a general dentist or a specialist, they will find this book applicable to their treatment methods and philosophies.
OUTSTANDING FEATURES

Special atlas sections break down complex information accompanied by descriptive diagrams and photographs to further explain sources of occlusal disorders and related pain.
Hundreds of full-color photographs and illustrations show problems and procedures.
Procedure boxes offer step-by-step explanations of specific procedures.
Important Considerations boxes in the Treatment chapters outline treatment plans and describe what is to be accomplished.
Programmed treatment planning, a specific process that guides a clinician through every step for solving even the most complex restorative or esthetic challenge.
The role of TMJs and occlusion in "everyday" dentistry.
The role of occlusion in orofacial pain and TMD, and in anterior esthetics.
Simplified occlusal equilibration and how to explain this process to patients.
The functional matrix concept for exceptional, foolproof smile design.
The five options for occlusal correction and how to apply them to practice.
Use and abuse of occlusal sprints.
Coordinating occlusal treatment with specialists for a fully interdisciplinary approach.
Specific criteria for success and how to test for each.

1. The Concept of Complete Dentistry
2. Perspectives on Occlusion and "Everyday Dentistry"
3. Occlusal Disease
4. The Determinants of Occlusion
5. The Temporomandibular Joint
6. The Masticatory Musculature
7. Centric Relation
8. Adapted Centric Posture
9. Determining Centric Relation
10. Load Testing for Verification of Centric Relation
11. Recording centric relation
12. Classification of Occlusions
13. Vertical Dimension
14. The Neutral Zone
15. The Envelope of Function
16. Functional Smile Design
17. Anterior Guidance and Its Relationship to Smile Design
18. Restoring Lower Anterior Teeth
19. Long Centric
20. The Plane of Occlusion
21. Posterior Occlusion
22. Simplifying Instrumentation for Occlusal Analysis and Treatment
23. Differential Diagnosis of Temporomandibular Disorders
24. Occluso-Muscle Disorders
25. Intracapsular Disorders of the TMJ
26. Classification of Intracapsular Disorders
27. Imaging the TMJs
28. Bruxism
29. Requirements for Occlusal Stability
30. Solving Occlusal Problems through Programmed Treatment Planning
31. The Diagnostic Wax-Up
32. Occlusal Splints
33. Occlusal Equilibration
34. Neuromuscular Dentistry: Bioelectronic instrumentation
35. Solving Occlusal Wear Problems
36. Solving Deep Overbite Problems
37. Solving Anterior Overjet Problems
38. Solving Anterior Open Bite Problems
39. Treating End-to-End Occlusions
40. Treating Splayed or Separated Anterior Teeth
41. Treating the Cross Bite Patient
42. Treating Crowded, Irregular or Interlocking Anterior Teeth
43. Solving Severe Arch Malrelationship Problems
44. Using Cephalometrics for Occlusal Analysis
45. Post Operative Care of Occlusal Therapy Patients
46. The Technological Future of Occlusal Restoration
47. Criteria for Success of Occlusal Treatment

Peter E. Dawson, DDS, Founder of the Concept of Complete Dentistry Seminar Series (SM), the Peter E Dawson Foundation and the Dawson Academy for Continuing Dental Education. Past president and life member of the American Equilibration Society, Past president of the American Academy of Restorative Dentistry and the American Academy of Esthetic Dentistry.