Managing For Success in Health Care
,
Hardcover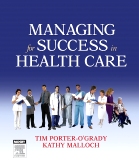 Free Shipping!
In Stock
This item has low stock levels and may be back-ordered. We'll let you know if it is back-ordered, and you will not be charged until the item ships.
2007 AJN Book of the Year Award Winner

Managing for Success in Health Care is a unique and innovative new reference manual for practicing nurse and health care managers designed to provide practical, to-the-point guidance on how to face the challenges of health care management in the twenty-first century. This book addresses issues such as increased workloads, budget and staffing cuts, and ongoing legislative changes that have altered the face of health care over the last decade and provides practical advice and information for managers.
UNIQUE! The presentation approaches the topic of leadership and management for nursing and health care from a trade market oriented perspective, with highly focused content presented in the context of an engaging design.
Twenty-nine chapters focus on the topics most important to building a solid foundation in leadership and management: team development and leadership; decision making; accountability; staff recruitment/staff rectention; and mentoring, learning, and leadership.
A highly visual design brings the content to life through effective use of color, photographs, illustrations, boxes, flow charts, and diagrams.
UNIQUE! Custom publishing of each page allows practicing health care managers to quickly and efficiently access small, readable chunks of practical information.
The authors use their years of experience in both the clinical and business sides of health care and education to present practical information, education, and advice in a real-life context through the use of scenarios, anecdotes, and references to which readers can easily relate.
Listings of bibliographies and suggested readings provide health care professionals with focused and reliable books and journal articles to which they can turn to in order to gain in-depth insight on specific management issues.

UNIT 1: Team Development and Leadership

1. Effective Teams

2. Managing Conflict

3. Team Performance: Evaluating Results

4. Transformation and Transitions

5. Transforming Teams for Decisions

UNIT 2: Building Decision-Making Skills

1. Making Effective Decisions

2. Leading the Adult-to-Adult Workplace: Who Am I Leading?

3. Creating a Context for Empowerment: Structuring for Shared Decision Making

4. Engaging Decision Makers: Empowering Others to Lead

5. The Person of the Leader: How Do I Lead?

UNIT 3: Accountability

1. Performance Accountability: Competence for the Work

2. Role Accountability: The Ownership of Work

3. Accountability and Excellence

4. Accountability and Evidence

UNIT 4: Structuring for Excellence: Building a Context for Retention

1. Structuring for Excellence: What is Structure?

2. Supporting the Structure

3. Staff Leadership

4. Advancing the Practice of Nursing

5. Sustaining Excellence

UNIT 5: Searching for Excellence: Recruiting the Best

1. Assessing the Workplace

2. Market Realities of Recruiting

3. Selling Your Organization

4. Interviewing for Excellence

5. Socializing New Employees

UNIT 6: Building the Future of Excellence: Mentoring, Learning, and Living Leadership

1. Synthesis: The New Role of the Leader

2. Modeling and Mentoring Leadership

3. Managing Risk and Vulnerability

4. Practice in a World of Uncertain Expectations

5. Building Relationships in the New Age of Work

Tim Porter-O'Grady, EdD, PhD, RN, CS, CNAA, FAAN, Senior Partner, Tim Porter-O'Grady Associates, LLC, Otto, NC; Associate Professor, Emory University, Atlanta, GA and Kathy Malloch, PhD, MBA, RN, FAAN, President, Malloch & Associates, Inc., Glendale; Faculty Associate, Arizona State University, Tempe, AZ