Mosby's Physical Examination Video Series: DVD 9: Breasts and Axillae, Version 2
,
DVD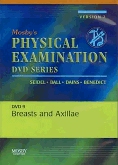 Free Shipping!
In Stock
This item has low stock levels and may be back-ordered. We'll let you know if it is back-ordered, and you will not be charged until the item ships.
This 13 minute video shows the steps needed to examine the breasts and axillae, including the proper use of equipment. With the patient seated, it demonstrates how to inspect the patient's breasts in four positions and how to palpate the breasts and axillae. With the patient supine, it shows various patterns for completing palpation of the breasts. The video highlights expected findings and alerts the viewer to selected variations in pediatric and geriatric patients. In addition, it emphasizes the importance of patient teaching regarding breast self-examination.
Animations and overlays demonstrate content and processes that cannot be shown on video (e.g., organs under the skin, lymph nodes, abdomen, pregnancy, transillumination of the sinuses, hydrocele, or scrotal cyst)
A booklet is provided with each video, containing overviews and outlines, learning objectives, discussion topics, and review questions with answers

Completely redone normal physical examination content
Examination content is more fast-paced and streamlined for a more contemporary look
More culture, age, and gender variations are featured to reflect a diverse population
Lifespan considerations are depicted throughout, with variations in assessment for pediatric and geriatric patients

Henry M. Seidel, MD, Professor Emeritus of Pediatrics, The Johns Hopkins University School of Medicine, Baltimore, MD, Jane W. Ball, RN, DrPH, CPNP, Trauma Systems Consultant, American College of Surgeons, Gaithersburg, MD, Joyce E. Dains, DrPH, JD, RN, FNP-BC, FNAP, FAANP, Associate Professor, Department of Nursing, The University of Texas; The University of Texas MD Anderson Cancer Center, Houston, Texas and G. William Benedict, MD, PhD, Assistant Professor, Medicine, The Johns Hopkins University School of Medicine, Baltimore, MD