Nursing Education in the Clinical Setting, 1st Edition
Paperback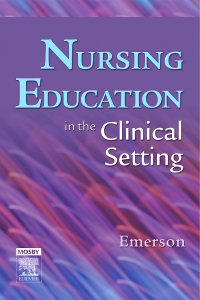 Free Shipping!
This item has low stock levels and may be back-ordered. We'll let you know if it is back-ordered, and you will not be charged until the item ships.
2007 AJN Book of the Year Award Winner

Nursing Education in the Clinical Setting provides a practical approach to clinical nursing instruction. Although grounded in adult learning theory, this unique resource provides practical suggestions and addresses common questions and issues. The text incorporates illustrative scenarios, discussion questions, and reflection exercises designed to facilitate thoughtful application of the content.
Addresses the role transition for a nurse with clinical expertise to that of clinical nursing instructor.
Provides important tips for effectively appraising student performance such as student involvement in self-evaluation and goal setting, and suggestions for how evaluation and appraisal are shared with the student.
Incorporates sample scenarios to illustrate concepts and allow the reader to apply them.
Integrates discussion questions and exercises designed to facilitate thoughtful application and critical thinking skills.
Addresses all aspects of learning, including "cognitive" (e.g., critical thinking), "affective" (e.g., caring), and "psychomotor" (e.g., technical skills).
Provides actual examples of tools to be used for documenting student performance and approaches for stimulating student involvement and critical thinking.
Includes a separate chapter on Clinical Faculty as Clinical Coach that discusses how learning is facilitated in the clinical setting with the guidance of an effective teacher.
Features a Clinical Toolbox that contains a variety of supplemental resources, including sample approaches for teaching and evaluation, suggestions for preparing anecdotal notes, and relevant reference material.
Incorporates issues related to computer access of patient data banks for students, and the federal regulations mandated by HIPAA and their clinical education implications.

Unit I. Orienting New Faculty to the Teaching Role

1. Clinical Nursing Practitioner to Clinical Nursing Faculty: a Challenging Transition

2. Theoretical Foundations of the Clinical Nursing Practicum

3. Philosophy and Models of Clinical Nursing Education

4. Today's Student, Tomorrow's Nurse: Characteristics and Clinical Educational Implications for Nursing Students


Unit II. Legal and Ethical Issues in Clinical Nursing Education

5. Rights and Responsibilities: the Clinical Agency

6. Rights and Responsibilities: the Student

7. Rights and Responsibilities: the Faculty

8. Legal and Ethical Implications in the Clinical Education Setting


Unit III. Setting the Stage

9. Preparing the Clinical Learning Environment

10. Preparing for the Students


Unit IV. Tools, Tactics, and Techniques

11. Stimulating the Growth of Critical Thinking and Clinical Judgment

12. Role of the Nursing Learning Resource Center

13. Clinical Faculty as Clinical Coach

14. Group Learning Experiences: Seminars and Conferences

15. Written Assignments

16. Challenging Student Situations

17. Hot Topics in Clinical Nursing Education


Unit V. Endings and Beginnings

18. Assessing Student Learning Outcomes: Evaluation and Grading

19. The Teacher as Student: Evaluation and Career Development


Unit VI: Clinical Educator Resources

20. Clinical Toolbox

Roberta J. Emerson, RN, PhD, CCRN, Associate Professor, Intercollegiate College of Nursing, Washington State University, Spokane, WA