Rapid Review Laboratory Testing in Clinical Medicine
,
Paperback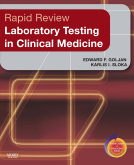 Free Shipping!
This item has low stock levels and may be back-ordered. We'll let you know if it is back-ordered, and you will not be charged until the item ships.
Get the most from your study time...with this high-yield print and electronic study package! This volume in the "Rapid Review" series - a series that is highly rated in the First Aid rankings - makes it easy for you to master laboratory testing in clinical medicine. An outline format and abundant charts, tables, and diagrams enable you to quickly access important information, and 212 review questions - presented in USMLE format - provide crucial self assessment for maximum exam and ward preparation. It's the perfect resource for medical students, residents, or practitioners who are preparing for the USMLEs, certification, or recertification.
Emphasizes clinically relevant content including disease diagnosis, test selection, and test-altering variables.
Provides an at-a-glance, outline-format review of all of the information you need to know.
Makes studying easier with a user-friendly 2-color layout, Hi-Yield Margin Notes, and Key Points.
Offers 212 USMLE-style review questions inside the book at the end of each chapter, with a full rationale for why every possible answer is right or wrong.
Each of the 212 questions is available online at www.studentconsult.com - using the Rapid Review Testing Tool, providing detailed feedback on which areas you may need to study more.

Laboratory Test Interpretation

Purpose of laboratory tests

Sensitivity and specificity

Predictive value

Precision and accuracy

Normal (reference) range

Variables affecting laboratory test results

Clinical Chemistry

Plasma proteins

Lipids

Electrolytes and acid-base

Iron studies

Renal

Liver

Endocrine

Cardiac

Pancreas

Gastrointestinal

Reproductive

Body Fluid Analysis

Cerebrospinal fluid

Synovial fluid

Effusions

Pulmonary Function

Calculation of Alveolar-arterial gradient

Spirometry and flow volume curves

Hematology

Reticulocyte count

Complete blood cell count (CBC)

Bone marrow exam

Hemoglobin electrophoresis

Red blood cell (RBC) disorders

White blood cell (WBC) disorders

Immunology

B and T cells

Immunodeficiency disorders

Human leukocyte antigens

Complement

Hypersensitivity disease

Autoimmune disease

Coagulation

Platelets

Coagulation

Fibrinolysis

Platelet disorders

Coagulation disorders

Summary table

Blood Bank and Transfusion
Medicine

Blood groups

Rh groups

Blood transfusion

Blood components

Transfusion reactions

ABO and hemolytic disease of newborns

Laboratory Aspects of Cancer

Tumor markers

Ectopic hormone syndromes

Edward F. Goljan, MD, Professor and Chairman of Pathology, Oklahoma State University, College of Osteopathic Medicine, Tulsa, Oklahoma and Karlis I. Sloka, DO, Associate Professor, Department of Pathology, Oklahoma State University, College of Osteopathic Medicine, Tulsa, OK