Prevention in Clinical Oral Health Care
,
Paperback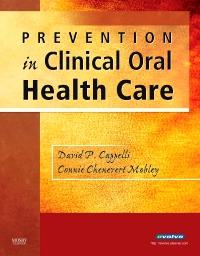 Free Shipping!
In Stock
This item has low stock levels and may be back-ordered. We'll let you know if it is back-ordered, and you will not be charged until the item ships.
This book focuses on oral health promotion and the impact of systemic disease in the development of oral disease, as well as how to introduce, apply, and communicate prevention to a patient with a defined risk profile. Prevention in Clinical Oral Health Care integrates preventive approaches into clinical practice, and is a valuable tool for all health care professionals to integrate oral health prevention as a component of their overall preventive message to the patient.
Discusses risk-based approaches to prevent problems such as caries, periodontal disease, and oral cancer.
Topics are written at a level that can be understood by both practicing dental health team members and by dental hygiene and dental students so strategies can be applied to better understand the patient's risk for oral disease and how to prevent future disease.
Identifies the barriers, oral health care needs, and preventive strategies for special populations such as children, the elderly, and the physically or mentally disabled.
Explores the development of a culturally sensitive dental practice and strategies to make the dental environment more welcoming to individuals with different cultural backgrounds.
Discusses how to gather patient information, the synthesis of the patient's data, and the application of the information collected in order to evaluate the patient's risk for disease.

PART ONE: EPIDEMIOLOGY AND PREVENTION THEORY

1. Epidemiology/Biology of Dental Caries

2. Epidemiology/Biology of Periodontal Diseases

3. Epidemiology/Biology of Oral Cancer

PART TWO: RISK-BASED PREVENTION

4. Dental Caries and Associated Risk Factors

5. Periodontal Disease and Associated Risk Factors

6. Oral Cancer and Associated Risk Factors

7. Synergism between Pharmacology and Oral Health

PART THREE: ASSESSMENT STRATEGIES TO TAILOR YOUR PATIENT CARE PLAN

8. Nutritional Risk Assessment

9. Laboratory Testing

10. Integrating Risk and Health Promotion Counseling

11. Enhancing Patient Adherence to Preventive Programs

12. The Fearful and Phobic Patient

13. Cultural Competence and Risk Assessment

PART FOUR: PREVENTION AND PRACTICE

14. Disease Prevention/Health Promotion

15. Prevention Strategies for Dental Caries

16. Prevention Strategies for Periodontal Diseases

17. Prevention Strategies for Oral Cancer

18. Prevention Strategies for Oral Components of Systemic Conditions

19. Prevention Strategies for Special Populations

20. Integrating Preventive Strategies into Clinical Practice

David P. Cappelli, DMD, MPH, PhD, Associate Professor, Department of Community Dentistry; University of Texas Health Science Center at San Antonio Diplomate, American Board of Dental Public Health and Connie Chenevert Mobley, PhD, RD, Acting Associate Dean of Research
Professor, Department of Professional Studies School of Dental Medicine; University of Nevada Las Vegas