Assistive Technology in the Workplace
,
Paperback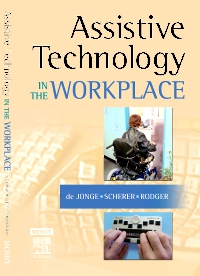 Free Shipping!
This item has low stock levels and may be back-ordered. We'll let you know if it is back-ordered, and you will not be charged until the item ships.
The first book of its kind, this text outlines and defines the process for selecting, integrating, and utilizing assistive technology in the work environment. Each stage of the process is examined in depth, and effective strategies are presented to help overcome the barriers likely to be encountered at each stage. The book also provides insight into the client's experience by drawing on research that explores the experiences of people using assistive technology in the workplace and the issues they face in acquiring and using their technology in the work environment.
Results from the Assistive Technology User Study are explained - an extensive and unique research project undertaken by the authors that examines the experiences of AT users in the workplace, the barriers they experience, and the support strategies they use to function in the work environment.
AT user quotes and anecdotes bring immediacy to obstacles faced in the workplace.
Vignettes and case studies throughout the text encourage students to apply principles to real-life situations.
Appendices include listings for various professional organizations, funding, listservs, and research resources, as well as lists of questions therapists and clients should ask in various situations.
Material progresses in a logical manner, examining each facet of workplace AT beyond its theory and evaluation.
Consumer/client-centered focus takes the client's needs into account, featuring anecdotes from the users interviewed in the AT User Study.
Employer concerns are addressed, using anecdotes to illustrate issues from the employer's perspective - an essential factor to consider when selecting appropriate technology.

1. Technology at Work

2. Review of the Development of Assistive Technology Models

3. Consumer-Centered Process for Technology Acquisition and Use

4. Identifying the Right Technology

5. Acquiring Technology for Work

6. Introducing Assistive Technology into the Workplace

7. Optimizing the Use of Technology in the Workplace

8. Issues for the Assistive Technology User in the Workplace

9. Evaluating the Effectiveness of Technology in the Workplace

Appendix A. Questions to Guide Identifying Potential Technologies

Appendix B. Questions to Guide Choosing a Supplier

Appendix C. Questions to Guide Trialing Devices

Appendix D. Questions to Guide Choosing the Best Technology

Appendix E. Questions to Guide the Acquisition of Technology

Appendix F. Questions to Guide Working with a Supplier

Appendix G. Questions to Guide Customization

Appendix H. Questions to Guide Learning to Use Your Technology

Appendix I. Questions to Guide the Long-Term Use of Assistive Technology in the Workplace

Appendix J. Resources and Weblinks

Desleigh de Jonge, B Occ Thy, M Phil(Occ Thy), Lecturer, Occupational Therapy, The University of Queensland, Brisbane, Australia, Marcia Scherer, PhD, MPH, Director, Institute for Matching Person and Technology, University of Rochester Medical Center; Adjunct Associate Professor of Physical Medicine and Rehabilitation and Senior Research Associate, International Center for Hearing and Speech Research, Webster, NY, USA and Sylvia Rodger, PhD, M Ed St, B Occ Thy, Senior Lecturer and Head, Department of Occupational Therapy, The University of Queensland, Brisbane, Australia