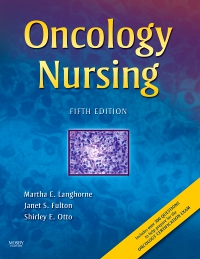 Publication Date:
04-04-2007
Oncology Nursing, 5th Edition
Paperback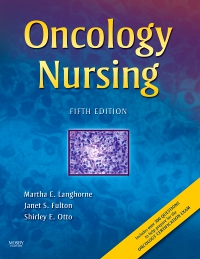 Publication Date:
04-04-2007
Free Shipping!
This item has low stock levels and may be back-ordered. We'll let you know if it is back-ordered, and you will not be charged until the item ships.
This classic text offers a comprehensive, yet concise and manageable overview of oncology nursing. New to this edition, symptom management topics are now presented in a separate unit so you'll easily see how to effectively improve your patients' sense of wellbeing. Over 400 multiple-choice review questions complement chapter case studies to reinforce what you've learned as well as prepare you for certification exams.
Comprehensive yet concise overview of oncology nursing
Consistent format in disease chapters for quick access and understanding of key information
Review questions with answers and rationales at the end of each chapter

New chapter on Functional Status and its effect on patient outcomes
New chapter on Ethical Considerations for the oncology nurse
New chapters on Skin Integrity, Oral Mucositis, Bone Marrow Suppression
New chapter on Palliative Care offers information regarding providing physical and emotional comfort to dying patients and their families
New chapters on Patient Education and Family Caregiving for information on assisting families that provide needed health services and support outside of the healthcare setting
New Symptom Management unit with new chapters on Dyspnea, Sleep Disturbance, Nausea, and Hot Flashes
Case studies at the end of each chapter correspond with chapter content and review questions with rationales

Unit I. Clinical Aspects of Cancer Diagnosis

1. Pathophysiology

2. Genetics

3. Epidemiology

4. Prevention, Screening, and Detection

5. Diagnosis and Staging

Unit II. Clinical Management of Major Cancers

6. Brain and Central Nervous System Cancers

7. Breast Cancer

8. Colorectal Cancers

9. Gastrointestinal Cancers

10. Genitourinary Cancers

11. Gynecologic Cancers

12. Head and Neck Cancers

13. Leukemia

14. Lung Cancer

15. Malignant Lymphoma

16. Multiple Myeloma

17. Skin Cancers

18. Pediatric Cancers

Unit III. Cancer Treatment Modalities

19. Surgery

20. Radiation Therapy

21. Chemotherapy

22. Biotherapy

23. Bone Marrow and Stem Cell Transplant

24. Complications of Cancer Treatments

25. Cancer Clinical Trials

Unit IV. Cancer Care Supportive Therapies

26. Nutrition

27. Skin Integrity—NEW!

28. Bone Marrow Suppression—NEW!

29. Oral Mucositis—NEW!

30. Psychosocial Issues, Outcomes, and Quality of Life

31. Impact of Cancer on Sexuality

32. Functional Status—NEW!

33. Patient Education—NEW!

34. Palliative Care—NEW!

35. Family Caregiving—NEW!

36. Ethical Considerations—NEW!

Unit V. Symptom Management—NEW!

37. Fatigue

38. Dyspnea

39. Pain

40. Sleep Disturbance

41. Nausea

42. Hot Flashes

Martha Langhorne, MSN, RN, FNP, AOCN, Nurse Practitioner, United Health Services Hospitals, Gastroenterology, Binghamton, New York, Janet Fulton, PhD, RN, ACNS-BC, ANEF, FCNS, FAAN, Center for Academic Affairs, Science of Nursing Care; Centennial Endowed Professor, Innovations in Nursing Education, Indiana University School of Nursing, Indianapolis, Indiana and Shirley E. Otto, MSN, CRNI, AOCN, Consultant, Formerly Clinical Nurse Specialist, Via Christi Regional Medical Center, St. Francis Campus, Wichita, KS