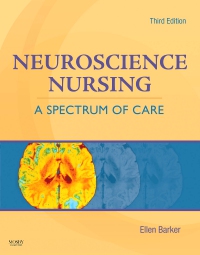 Publication Date:
05-01-2007
Neuroscience Nursing, 3rd Edition
Hardcover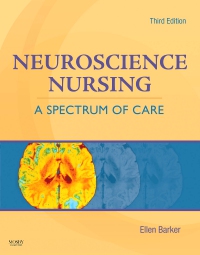 Publication Date:
05-01-2007
Free Shipping!
This item has low stock levels and may be back-ordered. We'll let you know if it is back-ordered, and you will not be charged until the item ships.
Neuroscience Nursing: A Spectrum of Care, 3rd Edition addresses the complicated needs of neuroscience patients and equips providers with in-depth knowledge of neurophysiology, neuroassessment, and neuromanagement to help provide the best patient care. This 3rd edition's carefully refined features enhance the book's readability, and the new 8-page color insert with 40 plates features important information on neurophysiology, diagnostics scans, and disorders such as aneurysms. Readers will find comprehensive information on foundations in neuroanatomy and data collection; thorough discussions of neurologic disorders; management considerations for frequently encountered neurologic conditions; and legal and ethical issues relevant to life care planning for the neuroscience patient.
Provides a foundation of neuroanatomy, normal physiology, assessment, and neurodiagnostic studies essential to understanding neurologic disorders.
Correlates neuroanatomy with the patient's clinical presentation.
Covers basic and advanced neuroassessment and documentation for effective and improved communication with the clinical team.
Builds a knowledge base of required skills for the necessary close observation and monitoring of the neuroscience patient to prevent complications and achieve the best outcomes.
Presents a comprehensive review of common neuroscience disorders and conditions for quick reference enhanced with current interventions by nursing experts.
Emphasizes care alerts and tips designed to produce the best clinical results.
Highlights key words in bold type and defines them within the text for greater clarity and understanding.
Includes separate chapters focusing on individual neurologic disorders with detailed descriptions from pathophysiology to in-depth analysis.
Stresses the nurse's role including: assessment, critical thinking and problem solving, collaborative team building, and patient and family education.
Describes appropriate care for each disorder from critical and acute care through post-acute care, neurorehabilitation, case management, and home health care.

Includes new content addressing the multidisciplinary neuroscience team approach for evidence-based delivery of care for neuroscience patents.
UNIQUE! Includes a Mayo Clinic Illustrated FOUR Score Assessment Card inserted into Chapter 6, Altered States of Consciousness and Sleep.
Features new chapters on Aneurysms, Inflammatory Demyelinating Diseases, and Management of Dementia and Motor Neuron Disease that cover the most current information with input from expert contributors on these complex problems.
UNIQUE! Includes the Johns Hopkins Hospital Department of Neuroscience Nursing Multiple Day Flowsheet as an expert source of information.
Explores the latest techniques and procedures for neurological surgery, as well as recent rehabilitation research for stroke and spine.
UNIQUE! Features the most up-to-date guidelines covering the spectrum of traumatic brain injury, spinal injury, and stroke, including the Stroke Risk Screening Tool (Courtesy of Neuroscience Nursing Consultants).
Covers the new weapon to combat stroke: the Merci Retriever.
Includes cutting-edge content on PRIALT for intrathecal drug delivery (ITDD) for severe pain and additional updates on additional pain management using the ITDD system.

Part I Neuroanatomy and Assessment

1. Neuroanatomy and Physiology of the Nervous System

2. The Adult Neurologic Assessment

3. Neurodiagnostic Studies

Part II Neurologic Disorders

4. Central Nervous System Infections

5. Metabolic Disorders

6. Altered States of Consciousness and Sleep

7. Brain Tumors

8. Cranial Surgeries

9. Neuroscience Critical Care Management

10. Intracranial Pressure Monitoring

11. Neurotrauma: Traumatic Brain Injury

12. Neurotrauma: Spinal Injury

13. Neurorehabilitation

14. Nontraumatic Disorders of the Spine

15. Peripheral Nerve Disorders

16. Cranial Nerve Deficits

17. Stroke Management

18. Aneurysms—NEW!

19. Management of Movement Disorders

20. Inflammatory Demyelinating Diseases—NEW!

21. Management of Dementia and Motor Neuron Disease—NEW!

22. Neuromuscular Junction and Muscle Disease

Part III Neurologic Conditions

23. Management of the Neuroscience Patient with Pain

24. Management of Seizures and Epilepsy

Part IV Legal Considerations

25. Legal Issues and Life Care Planning for the Neuroscience Patient

Ellen Barker, MSN, APN, CRNR, CLCP, ABDA, President, Neuroscience Nursing Consultants Greenville, DE Advance Practice Nurse in Private Practice