Core Curriculum for Transplant Nurses
,
Paperback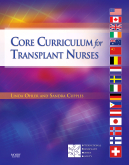 Free Shipping!
This item has low stock levels and may be back-ordered. We'll let you know if it is back-ordered, and you will not be charged until the item ships.
Endorsed by the International Transplant Nurses Association, this book provides a guide to safe and effective care for solid organ transplant recipients. It includes coverage of the unique requirements of each organ transplanted, with separate chapters for heart, lung, kidney, liver, small intestine, and pancreas/islet cell transplantation. Other chapters cover important topics that affect all organs, such as immunology, infections, pharmaceutical agents, and patient education and discharge planning.
Ideal as a review and study guide for the solid organ transplantation certification exam.
Provides self-assessment questions at the end of each chapter.
Discusses organ-specific evaluations for patients referred for transplantation.
Identifies key physical findings of infection, rejection, malignancies, and other post-transplant complications.
Covers the role of the immune system in rejection, infection, and malignancy.
Describes the various immunosuppressive therapies used in solid organ transplantation.
Identifies key pharmacologic principles regarding the care of solid organ transplant recipients.
Discusses ethical issues such as living donations, procurement of deceased donors, and clinical transplantation.
Describes allocation systems for organs in the U.S., Canada, Europe, and Australia.
Presents international nursing perspectives on organ transplantation.

1. Transplant Evaluation Process: Physiological and Psychosocial

2. Transplant Immunology

3. Patient Education and Discharge Planning

4. Transplant Pharmacology

5. Transplant Complications: Infectious

6. Transplant Complications: Non-infectious

7. Care of Living Donors

8. Professional Issues in Transplantation

9. Heart Transplantation

10. Lung and Heart-Lung Transplantation

11. Liver Transplantation

12. Small Bowel Transplantation

13. Kidney Transplantation

14. Pancreas and SPK Transplantation

15. Pediatric Transplantation: Heart, Kidney, Abdominal, and Intestinal

16. Psychosocial Issues in Transplantation