Psychotherapy for the Advanced Practice Psychiatric Nurse
,
Paperback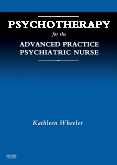 Free Shipping!
In Stock
This item has low stock levels and may be back-ordered. We'll let you know if it is back-ordered, and you will not be charged until the item ships.
Psychotherapy for the Advanced Practice Psychiatric Nurse provides the nurse psychotherapist with a useful "how-to" primer that contains practical techniques and interventions without a lot of theoretical jargon. Topics include the basics of psychotherapy, from how to respond to a patient's initial call to termination of care. Selected approaches, interpersonal, cognitive-behavioral, and psychodynamic psychotherapy are highlighted with discussion of evidence-base research. Specific techniques for working with commonly seen patient populations that require special consideration: those who have experienced trauma, children, and older adults are included. In addition, how to integrate psychopharmacology and psychotherapy is discussed in detail.
A straightforward approach to psychotherapy using a holistic nursing framework.
Latest findings on the neurophysiology of psychotherapy including research on attachment, therapeutic relationships, and trauma.
Evidence-based research for all approaches and populations discussed.
Provides treatment hierarchy for decision making in selecting strategies for treatment from the initial contact and assessment to termination.
Step-by-step guide to building the nurse-patient relationship in order to achieve quality outcomes. Includes detailed instructions on therapeutic communication techniques.
Detailed instructions teach you how to use the latest therapeutic communication techniques.
Includes all patient populations from children to the older adult with special emphasis on working with traumatized patients.
Comprehensive appendices provide quick access to helpful forms and diagnostic tools specific to psychotherapy nursing practice.

PART I: GETTING STARTED

1. The Nurse Psychotherapist and a Framework for Practice

2. The Neurophysiology of Psychotherapy

3. The Initial Contact and Therapeutic Communication

4. Assessment and Diagnosis

5. The Frame and Working Toward Change

PART II: PSYCHOTHERAPY APPROACHES AND CONSIDERATIONS

6. Cognitive-Behavioral Psychotherapy

7. Interpersonal Psychotherapy

8. Psychodynamic Psychotherapy

9. Psychopharmacotherapy and Psychotherapy

PART III: PSYCHOTHERAPY WITH SPECIAL POPULATIONS

10. Stabilization for Trauma and Dissociation

11. Processing Trauma

12. Psychotherapy with Children

13. Psychotherapy with Older Adults

PART IV: TERMINATION

14. Termination and Outcome Evaluation

Kathleen Wheeler, PhD, APRN-BC