Mosby's Oncology Nursing Advisor
,
Hardcover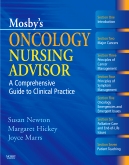 Free Shipping!
This item has low stock levels and may be back-ordered. We'll let you know if it is back-ordered, and you will not be charged until the item ships.
Like getting 7 books in 1, MOSBY'S ONCOLOGY NURSING ADVISOR provides quick access to essential information on a wide range of cancer topics, including types of cancer, treatment options, symptom management, palliative care, and patient teaching. Its user-friendly layout and straightforward coverage make it ideal for use in any clinical setting, offering authoritative guidance to help you provide the best possible oncology nursing care.
Detailed descriptions of over 50 major cancer types provide essential information on incidence, etiology and risk factors, signs and symptoms, diagnostic workup, histology, staging, treatment, prognosis, and prevention.
Coverage of cancer management principles outlines a wide range of treatment and pharmacologic modalities, including surgery, chemotherapy, radiation therapy, hormonal therapy, biological response modifiers, and complementary and alternative therapies.
Symptom management guidelines provide in-depth coverage of pathophysiology, assessment tools, lab and diagnostic tests, differential diagnoses, interventions, follow up care, and resources for over 30 common symptoms associated with cancer and cancer treatments.
Essential information on many oncologic emergencies and emergent issues prepares you to respond quickly to structural, metabolic, and hematologic emergencies.
Helpful patient teaching resources include more than 25 reproducible patient teaching handouts.
An entire section on palliative care and end-of-life issues offers helpful guidelines for dealing with topics related to hospice care, communication in palliative care, the final hours of the cancer patient, ethical considerations, and loss, grief, and bereavement.
Serves as a great study tool for the oncology nursing certification exam..

I. INTRODUCTION

1. Cancer Epidemiology
2. Cancer Pathophysiology

II. MAJOR CANCERS

3. Breast Cancer
• Invasive Breast Cancer
• Noninvasive Breast Cancer
4. Central Nervous System
• Astrocytoma WHO Grade 1
• Astrocytoma WHO Grade 2
• Astrocytoma WHO Grade 3
• Astrocytoma WHO Grade 4
• Benign Brain Tumors
• Ependymoma
• Metastatic Brain Tumors
• Mixed Glioma
• Primitive Neuroectodermal Tumor (PNET)
• Recurrent Glial Tumor
• Central Nervous System Malignancies — Overview
5. Gastrointestinal System
• Anal Cancer
• Biliary (Extrahepatic Bile Duct) and Gallbladder Cancers
• Colon and Rectal Cancers
• Esophageal Cancer
• Gastric Cancer
• GIST
• Hepatocellular Cancer
• Pancreatic Cancer
6. Genitourinary System
• Bladder Cancer
• Penile Cancer
• Prostate Cancer
• Renal Cancer
• Testicular Cancer
7. Gynecological
• Cervical Cancer
• Endometrial Cancer
• GTN
• Ovarian Cancer
• Vaginal Cancer
• Vulvar Cancer
8. Head and Neck
Laryngeal
• Oral
• Pharyngeal
• Salivary
• Thyroid and Parathyroid
9. Leukemia
• Acute Lymphocytic Leukemia
• Acute Myelogenous Leukemia
• Chronic Lymphocytic Leukemia
• Chronic Myelogenous Leukemia
• Myelodysplatic Syndrome
10. Lymphoma
• Hodgkin Lymphoma
• Nonhodgkin Lymphoma
11. Multiple Myeloma
12. Lung Cancer
• Non Small Cell Lung Cancer
• Small Cell Lung Cancer
13. Sarcomas
• Chondrosarcoma
• Ewing's
• Kaposi's
• Soft Tissue
14. Skin Cancer
• Melanoma
• Nonmelanoma

III. PRINCIPLES OF CANCER MANAGEMENT

15. Surgical Therapy
16. Radiation Therapy
17. Hematopoietic Stem Cell Transplantation: Overview and Priorities for Nursing Care
18. Biological Response Modifiers
19. Chemotherapy
20. Chemotherapeutic Agents
21. Targeted Therapy
22. Targeted Therapy Agents
23. Hormonal Therapy
24. Hormonal Therapy Agents
25. Complementary & Alternative Therapy
26. Complementary & Alternative Therapy Agents

IV. PRINCIPLES OF SYMPTOM MANAGEMENT

27. Alopecia
28. Alterations in Sexuality
29. Anorexia
30. Anxiety
31. Arthralgias and Myalgias
32. Confusion
33. Constipation
34. Cough
35. Depressed Mood
36. Diarrhea
37. Dizziness and Vertigo
38. Dysphagia
39. Dyspnea
40. Esophagitis
41. Fatigue
42. Fever
43. Flu-Like Syndrome
44. Headache
45. Hiccups
46. Lymphedema
47. Menopausal Symptoms
48. Mucositis
49. Nausea and Vomiting
50. Pain
51. Peripheral Neuropathy
52. Pleural Effusion
53. Pruritis
54. Seizures
55. Sleep Disturbances
56. Xerostomia

V. ONCOLOGIC EMERGENCIES/EMERGENT ISSUES

57. Structural Emergencies
• Bowel Obstruction
• Cystitis
• Neoplastic Cardiac Tamponade
• Radiation Pneumonitis
• Spinal Cord Suppression
• Superior Vena Cava Syndrome
• Urinary Tract Infection
• Urinary Tract Obstruction
58. Metabolic Emergencies
• Adrenal Failure
• Hypercalcemia
• Hyperuricemia
• Hypoglycemia
• SIADH
• Tumor Lysis Syndrome
59. Hematologic Emergencies
• DIC
• DVT
• Hemolytic Uremic Syndrome
• Pulmonary Embolism
• Sepsis
• TTP

VI. PALLIATIVE CARE AND END-OF-LIFE ISSUES

60. Palliative and Hospice Care
62. Cultural Issues in Cancer Care
63. Ethical Considerations
64. Final Hours
65. Loss, Grief, and Bereavement

VII. PATIENT TEACHING

Susan Newton, MS, RN, AOCN, AOCNS, Vice President, Health Management Solutions, Quintiles, Dayton, OH, Margie Hickey, MSN, MS, RN, Senior Director, Novartis Oncology, East Hanover, New Jersey and Joyce Jackowski, RN, MS, CNP, FNP-BC, AOCNP, Oncology Nurse Practitioner, Dayton Physicians, Hematology and Oncology, Dayton, OH