Voice and Laryngeal Disorders
,
Paperback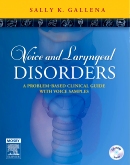 Free Shipping!
This item has low stock levels and may be back-ordered. We'll let you know if it is back-ordered, and you will not be charged until the item ships.
This interactive workbook-style text highlights important concepts in the evaluation and treatment of voice and laryngeal disorders. It features 24 case studies for 11 disorders, plus audio samples to help students and entry-level clinicians become familiar with a broad spectrum of voice disorders, diagnostic report information, and treatment plans. It is an ideal review tool for those seeking certification.
Five sections cover Case Studies, Evaluation, Treatment, Learning Opportunities and Unsolved Case Studies to build clinician knowledge and practical skills.
Speech disorders across the life span are detailed through overviews, efficacy data to support therapy techniques, case studies and pre- and post-therapy audio samples.
Case Studies teach students to analyze and describe disordered voices and engage in diagnostic and treatment plan processes.
Accompanying CD contains 30 audio samples of voice disorders, solutions to Labs and Unsolved Case Studies, electronic copies of evaluation forms and other resources to be used in the clinical setting.
Clinical forms and templates are included for use in assessing and treating various speech disorders.
Pediatric and adult "unsolved" case studies require students to solve problems, develop treatment plans, and refine clinical writing skills via written summaries, recommendations and goals.
Unsolved Case Studies encourage critical thinking, problem solving, assessment and clinical documentation skills essential for clinical practice.
Addresses clinical competencies in voice, resonance, and alaryngeal speech as specified by ASHA Knowledge and Skills Acquisition (KASA) Summary Form for certification.
Speech-Language Pathology PRAXIS exam topics are addressed to prepare students for the exam.

Part I: Case Studies

Reinke's Edema

Vocal Cord Dysfunction

Habit Cough

Muscle Tension Dysphonia

Puberphonia Travis

Vocal Nodules and Cysts

Spasmodic Dysphonia

Vocal Cord Paralysis

Transgender Voice: Male to Female

Post Laryngectomy Speech

Resonance Disorders: Oral-Nasal Balance

Part II: Evaluation

Overview

ASHA 2004 Preferred Practice Patterns for the
Profession of Speech-Language Pathology

Basic Voice Evaluation Equipment & Materials

Task Modifications & Props for Children

Anterior View of the Laryngeal Cartilages

Endoscopic View of a Normal Larynx

Sample Otolaryngology Report

Adult Case History

Child Case History

Voice Evaluation Form

Stroboscopy Evaluation Rating Form (SERF)

University of Wisconsin Stroboscopy Assessment of
Voice

Consensus Auditory - Perceptual Evaluation of Voice:

Voice Tasks (CAPE-V)

Consensus Auditory - Perceptual Evaluation of Voice:

Score Sheet (CAPE-V)

Rainbow Passage

Towne-Heuer Passage

Music Notes to Corresponding Frequencies

A Compilation of Voice Norms for: Phonation
Duration, S/Z Ratio, Speech Rate, Loudness,
and Pitch

Laryngeal Areas Most Sensitive to Muscle Tension

Neck and Extrinsic Laryngeal Muscles Sensitive to
Tension

Voice Handicap Index (VHI)

Reflux Symptom Index (RSI)

The Structures and Valves of the Speech Mechanism

Vagus Nerve Diagram

Vocal Cord Paralysis - Vagus Nerve Involvement:
Lesion Location & Effects (3 Scenarios)

Speech and Voice Tasks for Assessing Spasmodic
Dysphonia

Sample Otolaryngology Report for Spasmodic
Dysphonia

Speech and Voice Tasks for Assessing Nasal
Resonance

Male-to-Female Communication Assessment

Sample Pulmonology Report: Vocal Cord Dysfunction

Vocal Cord Dysfunction Patient Interview

Sample Pulmonology Report: Habit Cough

Habit Cough Patient Interview

Signs and Symptoms of Depression

Types and Symptoms of Anxiety Disorders

Part III: Treatment

Therapy Overview

ASHA 2004 Preferred Practice Patterns for the
Profession of Speech-Language Pathology

Guidelines for Voice Therapy

A Guideline for Formulating Goals for Voice and
Laryngeal Treatment

A Sample Hierarchy for Mask Focus: A Treatment
Technique for Vocal Hyperfunction

Methods for Evaluating Clients' Performance

Department of Speech-Language Pathology: Voice
Therapy Progress Note

Essential Components for a Well Balanced Voice

The Laryngeal Palpation and Massage

Treatment for Vocal Cord Dysfunction: VCD
Breathing Strategy

Treatment for Habit Cough: A Plan for the SLP
Cough Management Chart

Voice Care Tips

Laryngopharyngeal Reflux Information

Sources of Caffeine

Counseling Tips for the SLP

Part IV: Learning Opportunities

Respiration Lab

Voice Analysis Lab

Resonance Lab

Alaryngeal Speech Lab

Part V: "Unsolved" Case Studies

Unsolved Case Study Guided Learning Example:
Muscle Tension Dysphonia

Unsolved Case Studies: Pediatric

Unsolved Case Studies: Adult

References

Additional Readings

ASHA Code of Ethics

Glossary

List of Illustrations

Sally K. Gallena, MS, CCC-SLP, Clinical Externship Director, Clinical Supervisor, Instructor, Speech-Language Pathology Department, Loyola College, Baltimore, MD, USA