A Career in Nursing: Is it right for me?
Paperback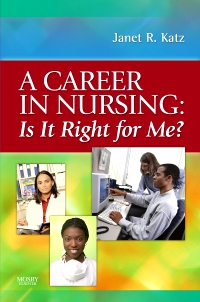 Free Shipping!
In Stock
This item has low stock levels and may be back-ordered. We'll let you know if it is back-ordered, and you will not be charged until the item ships.
For anyone considering a career in nursing, this book is a must-read resource providing a unique look at the nursing profession. Personal accounts from men and women at all stages and in all specialties of nursing provide practical advice and realistic, often humorous perspectives on what it's really like to be a nurse.
Simple, proven, common-sense tips, tactics and survival strategies cover every stage, from deciding to be a nurse, to choosing and being admitted to nursing school, succeeding academically, getting the first job, and thriving in a nursing career.
Anecdotes and interviews with practicing nurses highlight the human side of nursing.
The direct, conversational, and humorous writing style makes it easy to read.
Dispels the myths, misconceptions, and stereotypes of the nursing profession.
Includes the most recent data and statistics regarding the nursing shortage, job trends, health care systems, policy development and more.
Explores the many aspects of college life.
Advice helps you establish and achieve personal goals for success.
Appendices direct you to print and online resources for educational information, ways to pay for college, and nursing-related organizations.

1. You Don't Have to Like Blood to Be a Nurse

2. Tell Someone Who Cares

3. Making a Career Decision Is Enough to Make Anyone Sick

4. How to Get Where You Want to Go

5. The "5 R's": Choosing the Right School

6. Invasive Procedures: Getting into School

7. Going to School

8. Need a Brain Transplant? Try Graduate School

9. The Insider's Scoop on Job Opportunities

10. Working for a Living

11. Survival in the Workplace

Appendix A: Resources

Appendix B: Nursing Organizations

Janet Katz, PhD, RN, Assistant Professor, Intercollegiate College of Nursing, Washington State University, Spokane, WA