Temporary Anchorage Devices in Orthodontics
,
Hardcover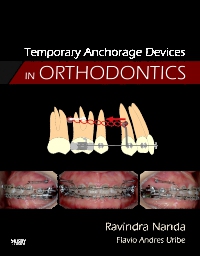 Free Shipping!
In Stock
This item has low stock levels and may be back-ordered. We'll let you know if it is back-ordered, and you will not be charged until the item ships.
The first book of its kind, Temporary Anchorage Devices in Orthodontics is your source for the latest information on minimally invasive, cost-effective, and esthetically pleasing temporary anchorage devices. This essential reference offers quick access to everything you need to know to begin offering these popular treatment options to your patients, including diagnosis and treatment planning, biomechanical considerations, clinical applications of anchorage device systems, and skeletal anchorage. Full-color illustrations and detailed case reports guide you through the entire treatment process, helping you achieve superior patient outcomes.
Over 1,650 full-color clinical photographs and accompanying line drawings clarify important concepts and show treatment progress from beginning to end.
Case Report boxes walk you through the treatment of specific conditions — from initial patient visit to final outcome — with clinical photos that allow you to see the changes that occur at each stage of treatment.
Expert contributors from all over the world lend their knowledge and experience to each topic to ensure that you have the most accurate, up-to-date, and clinically relevant information available.

PART 1: BIOLOGICAL PERSPECTIVE

1. Endosseous Miniscrews: Historical, Vascular, and Integration Perspectives

2. Biological Response of Orthodontic Temporary Anchorage Devices

PART 2: DIAGNOSIS AND TREATMENT PLANNING

3. Diagnosis and Treatment Planning of Mini-Implant Orthodontics

4. Miniature Osseointegrated Implants for Orthodontics Anchorage

5. Factors of Importance When Deciding to Use Skeletal Anchorage

PART 3: BIOMECHANICS CONSIDERATIONS

6. Biomechanical Principles in the Miniscrew-driven Orthodontics

7. Skeletal Anchorage Based on Biomechanics

PART 4: ANCHORAGE DEVICE SYSTEMS AND CLINICAL APPLICATIONS

8. The Appliances, Mechanics, and Treatment Strategies Toward Orthognathic-Like Treatment Results

9. The Management of Occlusal Plane and Missing Teeth

10. The Management of Missing Teeth with TAD

11. Skeletal Anchorage — Different Approaches

12. Clinical Application of Microimplants

13. Clinical Suitability of Titanium Microscrews for Orthodontic Anchorage

14. Treatment Planning Endosseous Dental Implants for Orthodontic Anchorage and Prosthodontic Restorations

PART 5: SKELETAL ANCHORAGE

15. Skeletal Anchorage System (SAS): Utilizing Orthodontic Miniplates

16. Bone Anchorage: A New Concept in Orthodontics

17. Palatal Anchorage

18. Skeletal Anchorage in Orthodontics Using Palatal Implants

Ravindra Nanda, BDS, MDS, PhD, Professor and Head, Department of Craniofacial Sciences; Chair, Division of Orthodontics, School of Dental Medicine, University of Connecticut Health Center, Farmington, CT and Ravindra Nanda, BDS, MDS, PhD, Professor and Head, Department of Craniofacial Sciences; Chair, Division of Orthodontics, School of Dental Medicine, University of Connecticut Health Center, Farmington, CT