Mosby's Orthodontic Review
,
Paperback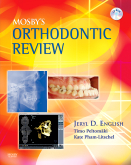 Free Shipping!
This item has low stock levels and may be back-ordered. We'll let you know if it is back-ordered, and you will not be charged until the item ships.
With a concise, focused review of orthodontic concepts and current clinical information, including diagnosis, treatment planning, and clinical treatment, MOSBY'S ORTHODONTIC REVIEW is the resource you need to achieve the best results for success on competency examinations as well as excellent clinical outcomes. From foundational concepts to more subjective areas of treatment planning and clinical treatment, this book includes a wealth of information from distinguished educators, recent graduates, and practicing professionals to help you prepare for the NBDE, Part II and the ABO written and clinical examinations. In addition, the companion CD-ROM includes six orthodontic cases written in the format required by the ABO for the Initial Clinical Examination to help familiarize you with the required ABO format.
Content is designed to prepare you for the NBDE, Part II and the ABO written and clinical examinations to help you achieve the best results.
Detailed illustrations provide a visual guide to conditions, techniques, diagnoses, key concepts, and more with case study photos that detail treatment from a patient's initial exam to completion.
Proven question and answer format covers the key information for each topic and helps prepare you for certification exams.

1. Craniofacial Growth and Development

2. Development of the Occlusion

3. Appropriate Timing for Orthodontic Treatment

4. Orthodontic Records and Case Evaluation

5. 3-Dimensional Imaging in Orthodontics

6. Diagnosis of Orthodontic Problems

7. Orthodontic Appliances

8. Biomechanics in Orthodontics

9. Treatment Planning

10. Treatment Tactics for Problems Related to Dento-Facial Discrepancies in Three Planes of Space

11. Phase I - Early Treatment

12. The Invisalign® System

13. Treatment of Class II Malocclusions

14. Class III Correctors

15. Minor Tooth Movement

16. Phase II: Nonsurgical Adolescent and Adult Cases

17. Adult Interdisciplinary Orthodontic Treatment

18. Implants in Orthodontics

19. Miniscrews and Palatal Implants for Orthodontic Anchorage

20. Oral Hygiene: Possible Problems and Complications

21. Orthodontics and Craniofacial Deformities

22. Temporomandibular Disorders

23. Retention in Orthodontics

24. Soft Tissue Diode Laser Surgery In Orthodontics

25. Computer-Aided Surgical Simulation for Complex Cranio-Maxillofacial Surgery

Jeryl D. English, DDS, MS, Professor, Chairman and Program Director, Department of Orthodontics, The University of Texas Dental Branch at Houston, Houston, TX; President Elect(2009)American Board of Orthodontics, Timo Peltomaki, DDS, MS, PhD, Professor and Chairman, Clinic for Orthodontics and Pediatric Dentistry, Center for Dental and Oral Medicine, University of Zurich, Zurich, Switzerland and Kate Pham-Litschel, DDS, MS, Research Associate, Clinic for Orthodontics and Pediatric Dentistry, Center for Dental and Oral Medicine, University of Zurich, Zurich, Switzerland