Mosby's Nursing Leadership & Management Online
,
Online Course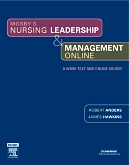 Or $0.00 with a valid access code
Mosby's Nursing Leadership & Management Online is an innovative online course that's adaptable to many learning situations because it can be used as a stand-alone course, as a supplement to an existing class, or as a distance-learning course. The 16 online modules and accompanying work text take a very practical, real-life approach to teaching leadership and management skills. The interactive online environment engages users in the learning process through illustrations, pop-up resources, learning activities, and more. Drawing on the experience of a nursing professor and a management consultant, it offers an understanding of both key nursing management practices and important business concepts — merging theory, research, and practical experience in each online module. Topics cover a wide range of management issues, such as delegation, communication, time management, problem solving, stress management, and legal/ethical considerations.
Each module begins with an Introduction that outlines the basic sections of the module.
The Overview explains key management concepts users will learn about in the module.
The Focused Reading Assignment directs users to read the corresponding chapter in the work text and provides a list of questions that they should be able to answer upon completion.
Review of Key Concepts, Principles, and Terms summarizes important discussions from the worktext that users may need to apply to complete the module.
You are the Manager sections present realistic case scenarios in which users assume the role of manager.
Case scenarios summarize important background information such as the history of the case, the current situation, and recent events.
Once users have a grasp of the situation, they are given a management task.
Users can click on links to supporting documentation such as e-mails, notes, and definitions.
Initial Data Collection sections provide users with information necessary to make important management decisions.
Photographs show various dialogues between managers and staff, different methods of communication, body language, and much more.
Getting to Work sections help users sort out the data they have collected and reinforce key concepts presented in the module.
Learning Activities such as multiple-select questions and matching exercises provide immediate feedback and rationales and keep track of user performance.
The Conclusion provides a summary of the key leadership and management concepts users learned in the module.

1. Introduction to Management

2. Management Fundamentals for the Healthcare Industry

3. Fundamentals of Leadership and Management

4. Fundamental Performance of the Nurse Manager

5. Developing and Managing Healthcare Productivity

6. Managing Change in the Healthcare Environment

7. Ethics in Healthcare Management

8. Communication for Front-Line Managers

9. Leadership in Healthcare Supervision

10. Time Management for Healthcare Managers

11. Solving Problems and Making Decisions

12. Leading and Coaching the Professional Team

13. Recruiting and Selecting Staff

14. Managing Budgets and Resources

15. Quality Assurance and Risk Management

16. Managing the Stress of Management

Robert L. Anders, APRN, DrPH, CNAA, CS, Associate Dean, College of Health Science; Professor and Director, School of Nursing, University of Texas at El Paso, El Paso, TX, USA and James A. Hawkins, EdD, MBA, Chairman and Chief Executive Officer, The Directions Corporation, Honolulu, HI, USA