Mosby's Pediatric Nurse Practitioner Online Review
,
Online Course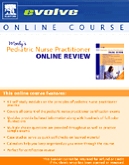 Or $0.00 with a valid access code
Covering all subject areas of the PNCB and ANCC pediatric nurse practitioner certification exams, this 16-week review course includes content overviews with full-color content illustrations, self-check questions in each lesson, and case studies that provide real-life examples of common pediatric concerns. Additional resources are included such as, comprehensive information on over 125 commonly used pediatric medications currently on the market. Four different calendar schedules are available to map out a study regimen. A final comprehensive exam that mirrors the certification exam can be taken at the end of the course.
Covers all subject areas of the PNCB and ANCC pediatric nurse practitioner certification exams.
UNIQUE! No need for users to travel to 1 and 2 day courses. Course is online and can be accessed 24 hours a day.
UNIQUE! No books, disks, or CD-ROMS needed.
Content areas provide bulleted information every Pediatric Nurse Practitioner must know.
Multiple-choice questions throughout each module for quick self-checks of learned material
Provides computerized test experiences.
Pre-test, Post-test, and Final exam scores will available to instructors via the Evolve website.
Over 25 case studies provide real-life examples of common symptoms and diagnoses.
UNIQUE! Information on over 125 pediatric drugs that can be customized and printed.
UNIQUE! Calendar provides 4 different schedules for moving through the course.

UNIT 1: CERTIFICATION

1. Exams

2. Test-taking Strategies

3. State Regulations

4. Credentialing


UNIT 2: HEALTH PROMOTION AND WELL CHILD CARE

5. Well Child and Adolescent Care

6. History Taking and Physical Exam

7. Cultural Issues and Influences

8. Genetics

9. Newborn and Infant Assessment and Management

10. Parenting Situations

11. Common Developmental Concerns

12. Growth and Development

13. Screening Tests

14. Immunizations

15. Injury Prevention

16. Nutritional Assessment and Obesity

17. Dental Health

18. Common Adolescent Concerns


UNIT 3: COMMON ACUTE AND CHRONIC CLINICAL PROBLEMS

19. Allergies

20. Non-Specific Complaints

21. The Ears

22. The Eyes

23. Nose and Throat

24. Respiratory System

25. Cardiovascular System

26. Hematologic System

27. Gastrointestinal Disease

28. Genitourinary System

29. Reproductive System

30. Musculoskeletal System

31. Neurologic System

32. Integumentary System

33. Oncology

34. Endocrine System

35. Infectious Diseases

36. Behavioral Issues

37. Developmental Difficulties

38. Social Disorders

39. Pediatric Emergencies


UNIT 4: CURRENT ISSUES AND TRENDS

40. Professional and Legal Issues

41. Federal Programs

42. Research Concepts

43. Evidence Based Practice