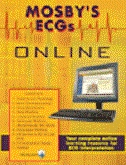 Or $0.00 with a valid access code
If you're looking for a dynamic and interactive way to learn ECG interpretation, then look no further... it's just a click away! Mosby's ECGs Online brings the convenience of online learning right into your home or office. You'll not only learn to recognize and interpret basic ECGs, you'll have fun while you're doing it.

You won't need any other book or reference. With 11 modules in all, you'll learn everything—including A&P, basic electrophysiology, the various basic dysrhythmias, and an introductory module on 12-lead interpretation!

Mosby's ECGs Online is loaded with learning activities and interactive exercises! The "ECG Analyst" features an interactive interface displaying ECG rhythm strips and a live action calculator ruler. You can move the calculator ruler about the strip to determine heart rate and other pertinent information. Pop-up windows like "On the Job" and "Show Me" give you expert insight into certain concepts as they pertain to the clinical setting.

You can't get action like this from a textbook! Video presentations, full-color illustrations, and animations bring difficult concepts to life. Plus, review as you go with "Let's Review" exercises integrated throughout and self-testing module quizzes so you can see what you've learned!
Presents in-depth information in convenient online tutorial and problem-based format with interactive activities that enhance learning.
Uses real-world problems throughout to allow users to experience the issues they will encounter in the clinical setting.
Includes a glossary of over 250 terms complete with audio pronunciation when appropriate.
Content is reinforced with interactive review exercises, learning activities, graphics, and practice tests.
A posttest module tests users' comprehension of the tutorial.

Module 1: Anatomy and Physiology
Module 2: Basic Electrophysiology
Module 3: Sinus Mechanisms
Module 4: Atrial Rhythms
Module 5: Junctional Rhythms
Module 6: Ventricular Rhythms
Module 7: Atrioventricular (AV) Blocks
Module 8: Pacemaker Rhythms
Module 9: Introduction to the 12-Lead ECG
Module 10: Comprehensive Review
Module 11: PostTest