Flashcards for Palpation, Trigger Points, and Referral Patterns
,
Flashcards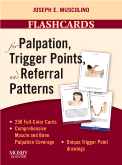 Free Shipping!
This item has low stock levels and may be back-ordered. We'll let you know if it is back-ordered, and you will not be charged until the item ships.
Studying and mastering palpation is easier than ever with this complete set of 240 full-color flashcards! Detailed illustrations and information on positioning, palpation steps, notes, and more – all in a convenient, compact format – make these flashcards perfect for studying on the go or for reference during clinical practice. In addition to 139 cards on muscle palpation, this set also includes 71 cards on bone palpation and 30 cards covering trigger points and pain referral patterns, with references to The Muscle and Bone Palpation Manual textbook, for a complete study tool.
Vibrant, full-color illustrations of muscle palpation show how the muscles look under the skin as they are being palpated.
Coverage of where trigger points lie on the muscle, as well as pain referral patterns, helps you better understand and treat your clients' pain.
Detailed content on bone palpation and landmarks helps you easily find the attachments of muscles.
UNIQUE! These flashcards combine with the textbook, The Muscle and Bone Palpation Manual and flip chart (both sold separately) for a complete set of resources on palpation, trigger points, and stretching.
Compact and convenient format allows you to study anywhere – without carrying a bulky book.
A companion booklet with study hints and suggestions for how to use the cards when studying alone or in a group ensures you get the most out of this helpful resource.

How to Use These Flashcards

Part 1: Muscle Palpation

1. Palpation of the Muscles of the Shoulder Girdle

2. Palpation of the Muscles of the Neck

3. Palpation of the Muscles of the Head

4. Palpation of the Muscles of the Arm

5. Palpation of the Muscles of the Forearm

6. Palpation of the Intrinsic Muscles of the Hand

7. Palpation of the Muscles of the Trunk

8. Palpation of the Pelvic Muscles

9. Palpation of the Thigh Muscles

10. Palpation of the Leg Muscles

11. Palpation of the Intrinsic Muscles of the Foot

Part 2: Bone Palpation

1. Upper Extremity

2. Axial Body

3. Lower Extremity

Part 3: Trigger Points

Joseph E. Muscolino, DC, Instructor, Purchase College, State University of New York, Purchase, NY; Owner, The Art and Science of Kinesiology, Redding, CT