Natural Standard Herbal Pharmacotherapy
,
Hardcover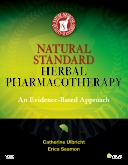 Free Shipping!
In Stock
This item has low stock levels and may be back-ordered. We'll let you know if it is back-ordered, and you will not be charged until the item ships.
With all of the essential information you need on herbal pharmacotherapy for the pharmacy setting, Natural Standard Herbal Pharmacotherapy provides practical guidance on the use of herbal therapies for medical conditions. The text's unique expanded outline format allows you to quickly review facts and identify important information. Each chapter includes detailed, evidence-based coverage of the effects of herbal medicine on medical conditions, and Natural Standard's grading scale ensures you use the most effective treatments for your patients. Plus, a section on adjunct therapies provides advice on combining herbal medicine with primary treatments.
Chapters are organized by medical condition, and present supportive evidence for selected herbal therapies used for specific medical conditions.
A full-color insert provides photos of herbs covered in the text in their natural settings.
Case studies prepare you for patient counseling in clinical practice.
Review questions, similar to those on national board exams, allow trainees to evaluate learning and identify areas for further study, with answers provided at the back of the book.
A section on herbal therapies with limited evidence includes information on widely used products which lack scientific evidence to support use.
Dosing information provided for adults and children.
Integrative therapy plans help quickly assess patient needs and create cohesive treatment plans considering all therapeutic options.
Herb tables by therapeutic class summarize products with properties related to specific medical conditions.
An appendix of normal lab values includes the relative range for a variety of tests and conditions.
The comprehensive safety appendix describes adverse effects, clinically significant interactions between herbs and other botanicals (including plants, fungi, algae, and common constituents) with prescription and over-the-counter drugs. This section also includes pharmacodynamics and pharmacokinetics information for herbal therapies.
A pregnancy appendix contains scientific evidence regarding the safety and efficacy of herbal products during pregnancy and lactation.

Chapter 1 - Introduction to Herbal Pharmacotherapy

Chapter 2 - Evidence-Based Integrative Care

Chapter 3 - Psychiatric Disorders

Chapter 4 - Anxiety and Insomnia

Chapter 5 - Depressive Disorders

Chapter 6 - Physical and Cognitive Enhancement

Chapter 7 - Parkinson's Disease

Chapter 8 - Epilepsy

Chapter 9 - Pain

Chapter 10 - Alzheimer's Disease and Related Disorders

Chapter 11 - Hypertension

Chapter 12 - Congestive Heart Failure and Diuresis

Chapter 13 - Angina

Chapter 14 - Ischemic Disease and Heart Rhythm Disorders

Chapter 15 - Coagulation Disorders

Chapter 16 - Lipid Disorders

Chapter 17 - Respiratory Disorders

Chapter 18 - Diabetes

Chapter 19 - Pituitary and Thyroid Disorders

Chapter 20 - Obesity

Chapter 21 - Menopause

Chapter 22 - Osteoporosis

Chapter 23 - Arthritis

Chapter 24 - Gastrointestinal Disorders

Chapter 25 - Liver Disorders

Chapter 26 - Genitourinary Disorders

Chapter 27 - Bacterial Infections

Chapter 28 - Parasitic Infections

Chapter 29 - Viral Infections

Chapter 30 - Cancer

Appendix A – Safety: Adverse Effects, Interactions, Pharmacokinetics

Appendix B – Pregnancy and Lactation

Appendix C – Therapeutic Class Tables

Appendix D – Laboratory Values Answers to Review Questions

Catherine Ulbricht, PharmD