Mosby's Medical Terminology Online - Retail Pack
,
Online Course - Access Card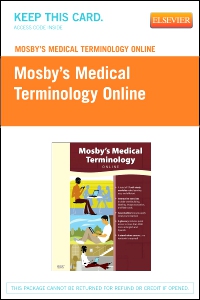 Bringing medical terminology to life, Mosby's Medical Terminology Online provides a fun, visual way to review medical vocabulary and apply it to the healthcare setting. Hundreds of interactive exercises help you learn and memorize medical terms, and narrated animations and slide shows demonstrate concepts that are difficult to explain with just static print. After each section, a quiz helps you assess your progress. Make the most of your study time with MMTO!
Duration for access to this product is for the life of the edition.
UNIQUE! A complete online learning environment integrates coverage of A&P and medical terminology with activities, animations, and assessments.
Interactive exercises include word building, labeling, listen and spell, image association, pronunciation, pop-up review, hangman, matching, true/false, fill-in-the-blank, flash cards, and case studies, offering the practice you need to learn and memorize medical terms.
Narrated animations and slide shows demonstrate physiologic processes and help you master difficult concepts.
Threaded case studies follow patients with particular medical conditions throughout an entire module to show the real-life applications of medical terminology.
Over 450 anatomical illustrations and 450 illustrations of diseases and disorders reinforce learning.
Anatomy and physiology, pathology, diagnostics, and interventions tables provide quick access to the pronunciations, origins, and definitions of the most frequently occurring diseases and disorders, as well as their diagnoses and treatments.
Quizzes and exams allow you to evaluate yourself after each section with an automatically graded assessment.
A 5,000-term glossary includes definitions along with pronunciations in English and Spanish.

1. Introduction to Healthcare
2. Body Structure and Directional Terminology
3. Musculoskeletal System
4. Integumentary System
5. Gastrointestinal System
6. Urinary System
7. Male Reproductive System
8. Female Reproductive System
9. Blood, Lymphatic, and Immune Systems
10. Cardiovascular System
11. Respiratory System
12. Nervous System
13. Special Senses: Eye and Ear
14. Endocrine System
15. Mental and Behavioral Health
16. Oncology
17. Pharmacology

Mosby