Mosby's Dissector for the Rehabilitation Professional
,
Spiral Bound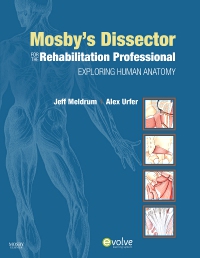 Free Shipping!
In Stock
This item has low stock levels and may be back-ordered. We'll let you know if it is back-ordered, and you will not be charged until the item ships.
Designed specifically to meet the unique needs of students studying to become rehabilitation professionals - including physical therapists, occupational therapists, and chiropractors - this full-color dissection guide helps you connect discoveries in the dissection lab with function and pathology. With the necessary technical information you need – including content on applied anatomy, embryology, and structural histology – in 25 laboratory exploration chapters, this unique guide uses case studies and critical thinking exercises to encourage you to explore human anatomy, synthesize your findings, and apply your knowledge to clinical practice.
Extensive coverage of the musculoskeletal and nervous system emphasizes the information on muscles, vertebral column, and the upper and lower extremities that you need as a rehabilitation health professional.
Clinical cases, thought-provoking questions, clinical notes, and review exercises encourage you to explore through dissection and apply what you've learned to real-life practice.
Sections on embryology and histology provide important insights into the origin and nature of adult anatomy and follow the national guidelines for physical therapy anatomy curricula.
References to the most popular human anatomy atlases – Netter's, Gray's, Grant's, and Clemente's – allow for flexibility of use in any program.
Emphasis on variations in anatomy reinforces the real-life diversity among patients.
Over 200 full-color illustrations clearly demonstrate anatomy and dissection processes.

Introduction to Exploring

Lab Exploration 1: Vertebral Column

Lab Exploration 2: Back

Lab Exploration 3: Suboccipital Triangle

Lab Exploration 4: Spinal Cord

Lab Exploration 5: Thoracic Body Wall, Pleural Cavities and Lungs

Lab Exploration 6: Heart and Mediastinum

Lab Exploration 7: Abdominal Body Wall and Inguinal Region

Lab Exploration 8: Peritoneal Cavity and Abdominal Viscera

Lab Exploration 9: Diaphragm, Kidneys and Bladder

Lab Exploration 10: Triangles of the Neck

Lab Exploration 11: Pectoral Region and Axilla

Lab Exploration 12: Scapular Region, Shoulder Joint and Arm

Lab Exploration 13: Elbow and Forearm

Lab Exploration 14: Wrist and Hand

Lab Exploration 15: Posterior Body Wall

Lab Exploration 16: Anterior and Medial Thigh

Lab Exploration 17: Gluteal Region Posterior and Lateral Thigh

Lab Exploration 18: Perineum and Ischiorectal Fossa

Lab Exploration 19: Popliteal Fossa and Knee Joint

Lab Exploration 20: Leg and Dorsum of Foot

Lab Exploration 21: Plantar Foot and Ankle

Lab Exploration 22: Viscerocranium and Muscles of Facial Expression

Lab Exploration 23: Neurocranium and Intracranial Fossae

Lab Exploration 24: Muscles of Mastication and Temporomandibular Joint

Lab Exploration 25: Craniovertebral Joints and Prevertebral Muscles

Index

Jeffrey Meldrum, PhD, Associate Professor of Anatomy and Anthropology, Department of Biological Sciences; Adjunct Associate Professor, Department of Anthropology, Department of Physical and Occupational Therapy, Idaho State University, Pocatello, ID and Alexander Urfer, PT, PhD, Department Chair, Professor of Physical Therapy and Physiology, Department of Physical and Occupational Therapy, Idaho State University, Pocatello, ID