Animal Restraint for Veterinary Professionals - Elsevier eBook on VitalSource
,
Elsevier eBook on VitalSource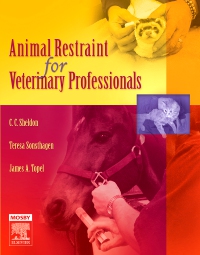 Or $0.00 with a valid access code
This innovative resource provides both step-by-step instructions and vivid, full-color photographs that explain and illustrate proper animal restraint techniques. Each procedure features between two and eight photos that clearly show the exact steps necessary to achieve safe and effective restraint. It covers handling and restraint for all domestic species: cats, dogs, horses, cattle, pigs, sheep goats, lab animals, rabbits, ferrets, and birds. The book also includes normal and abnormal behavior characteristics, precautions, special handling, restraint devices, and descriptions of medical procedures, such as venipuncture, for which special restraint procedures are necessary.
Features full color throughout.
High-quality, crisp, clear photographs illustrate each restraint procedure.
Restraint procedures are presented in a logical, step-by-step format
Covers handling and restraint of all domestic animal species.
Each chapter includes normal and abnormal behavior characteristics, precautions, special handling, restraint devices, and descriptions of medical procedures, such as venipuncture, for which special restraint procedures are necessary

1. Restraint Principles

2. Knot Tying

3. Restraint of Cats

4. Restraint of Dogs

5. Restraint of Horses

6. Restraint of Cattle

7. Restraint of Pigs

8. Restraint of Sheep

9. Restraint of Goats

10. Restraint of Rodents, Rabbits, and Ferrets

11. Restraint of Birds

Appendix 1 Gender Names

Appendix 2 Physiologic Data

Appendix 3 Glossary

C. C. Sheldon, DVM, MS, Program Director, Veterinary Technician and Laboratory Animal Technician Programs, Madison Area Technical College, Madison, WI, USA, Teresa F. Sonsthagen, BS, LVT, Instructor, Veterinary Technology Program, Department of Animal and Range of Sciences; North Dakota State University, Fargo, ND and James Topel, CVT, Instructor, Vet Tech and Lab Animal Tech, Madison Area Technical College, Madison, WI, USA