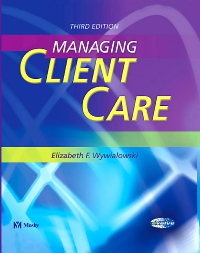 Publication Date:
11-04-2003
Managing Client Care - Elsevier eBook on VitalSource, 3rd Edition
Elsevier eBook on VitalSource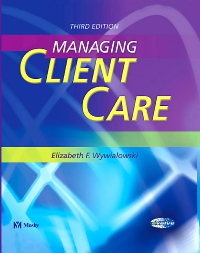 Publication Date:
11-04-2003
Or $0.00 with a valid access code
Providing a focus on the knowledge and skills needed to become a successful first-line manager, this unique text emphasizes successful client care by addressing the role of nurses in managing quality and the available resources needed. It also discusses each of the essential components of the manager of care role, as well as the basic or core competencies required of staff nurses inherent in the direct care of clients. Thoroughly revised and updated, this 3rd edition reflects the numerous changes related to evolving management concepts — including understanding the health care system, using personal strengths most effectively, and nurturing professional integrity.
Content focuses on client care management, rather than staff management, to go beyond basic management concepts and help those whose role will be managing quality client care.
Essential theoretical information is covered with an emphasis on practical application.
Application Exercises at the end of each chapter challenge readers to apply what they've just learned. A brief clinical situation is followed by questions or commands to describe the solution, based on what was learned in the chapter.
Critical Thinking Scenarios at the end of each chapter give readers a short case study to consider and questions to test their application of knowledge.
A competency-based format is applied throughout and is based on a research study that identifies clinical management skills needed by beginning staff nurses.
Objectives and Key Concepts at the beginning of each chapter provide readers with a glimpse at important information contained within. Key concepts are also shown in boldface upon first mention in that chapter.
Cartoons are provided throughout to keep readers more actively interested in the text content.

Terrorism readiness and disaster management content has been added to prepare readers for today's most relevant issues.
The chapter on Understanding the Context of Health has been thoroughly revised to offer readers a glimpse into the heart of the business of health care. New content in this chapter includes economic and political ties to seamless health care, nursing informatics, and technology in practice.
The latest issues facing staff nursing are covered — including content on staff shortages, mandatory overtime, agency nurses/temps, self-preservation, and continuing education.
Revised and updated instructor's resources are now located online for added flexibility.

UNIT ONE: Understanding the Client Care Environment
1. Introduction to Client Care Management
2. Understanding the Context of Health Care
3. Supporting the Organization
4. Managing Time Purposefully
UNIT TWO: Managing Client Care
5. Managing Resources Cost Effectively
6. Developing Management Skills
7. Identifying and Resolving Conflicts
8. Receiving and Giving Change-of-Shift Reports
9. Transcribing Physician's "Orders"
UNIT THREE: Managing Others
10. Using Personal Strengths to Manage Others Creatively
11. Coordinating Care Provided by Nursing, Multidisciplinary and Interdisciplinary Groups
12. Supervising and Evaluating the Work of Others
13. Assigning and Delegating Client Care Activities
14. Conducting Client Care Conferences as a Management Tool
UNIT FOUR: Professional Development
15. Addressing Ethical and Legal Issues
16. Nurturing Professional Integrity
EPILOGUE: Managing Your Career

Elizabeth F. Wywialowski, EdD, MS, BSN, CRRN, RN