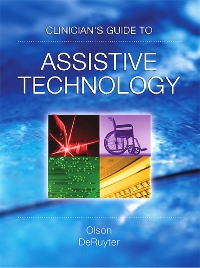 Publication Date:
09-25-2001
Clinician's Guide to Assistive Technology - Elsevier eBook on VitalSource, 1st Edition
Elsevier eBook on VitalSource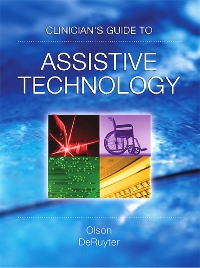 Publication Date:
09-25-2001
Or $0.00 with a valid access code
This useful resource is designed to offer healthcare professionals specific information about the diverse area of assistive technology. It covers the variety of technology available and explains the adaptations of the technology, as well as how different devices work together. The first section provides the fundamentals of assistive technology, discussing issues such as life span considerations, environmental context, and funding and public policy. The next section delves into topics especially relevant for patient care, including computer access and alternative communication. Sections on manipulation, ambulation, and locomotion technologies are discussed next, concentrating on devices that assist with upper and lower body function. This text ends with a discussion of technologies for environments in the real world.
Section I: Assistive Technology Principles
Introduction
Chapter 1 Matching Consumers Across the Life Span with the Most Appropriate Assistive Technologies
Chapter 2: Contexts: Assistive Technology at Home, School, and Work, and in the
Community
Chapter 3: Human Factors and Environmental Access
Chapter 4: Assistive Technology Service Delivery
Chapter 5: Outcomes
Chapter 6: Funding and Public Policy

Section II: Technologies for Information, Communication and Access
Introduction
Chapter 7: Computer Access
Chapter 8: Information Technologies
Chapter 9: Augmentative/Alternative Communication
Chapter 10: Integrated Systems
Chapter 11: Sensory Aids: Vision
Chapter 12: Sensory Aids: Hearing

Section III: Technologies for Manipulation
Introduction
Chapter 13: Seating Intervention and Postural Control
Chapter 14: Upper Limb Orthotics
Chapter 15: Adaptive Aids
Chapter 16: Upper Limb Prosthetics
Chapter 17: Robotics/Manipulators

Section IV: Technologies for Ambulation and Locomotion
Introduction
Chapter 18: Lower Limb Prosthetics
Chapter 19: Wheelchair Mobility
Chapter 20: Spatial Orientation and Wayfinding
Chapter 21: Driver Evaluation and Vehicle Modification
Chapter 22: Lower Limb Orthotics

Section V: Technologies for Environmental Access
Introduction
Chapter 23: Environmental Access in the Workplace
Chapter 24: Home Environments, Automation, and Environmental Control
Chapter 25: Adaptive Aids for Self-care and Child-care
Chapter 26: Recreation/Play Environments.

Don A. Olson, PhD, Associate Professor, Department Physical Medicine and Rehabilitation, Northwestern University Medical Schools; Director, Dixon Education and Training, Rehabilitation Institute of Chicago, Chicago, IL and Frank DeRuyter, PhD, Director and Associate Professor, Speech Pathology and Audiology, Duke University Medical Center, Durham, NC