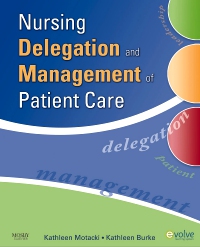 Nursing Delegation and Management of Patient Care- Elsevier eBook on VitalSource
,
Elsevier eBook on VitalSource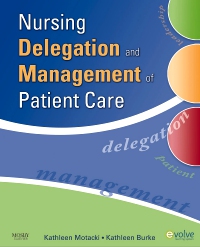 Help your students prepare for practice with this complete guide to nursing management of patient care. This book goes beyond the standard coverage of staff management. Its unique format emphasizes the five key responsibilities of the nurse in a typical health care environment.
Patient care management
Leadership
Information management
Organizational planning
Human resources
Students will understand how hospitals function, and use that knowledge to provide safe and effective nursing care.
Organized around the five major functional groups within health care organizations that nurses handle or frequently interact with — patient care management, leadership, information management, organizational planning, and human resources.
Important content on the environment of care examines hospital safety and security issues including emergency codes, Safe Patient Handling and Movement and Materials Safety Data Sheets (MSDS).
Evidence-Based boxes summarize current research and best practices for topics throughout the textbook.
Clinical Corner boxes discuss practice process improvements made by nurses, including safe, effective practices used at their institutions and how they improve patient care.
NCLEX® examination-style review questions at the end of each chapter offer valuable review and exam preparation.

Section I: Patient Care Management

Introduction to Patient Care Management
Communication in the Work Environment for the Management and Coordination of Care
Assigning and Delegating Patient Care Activities
Evidence-Based Practice
Management of the Environment of Care

Section II: Leadership

Healthcare
Healthcare Regulatory and Certifying Agencies
Ethical Issues in Patient Care
Developing Management Skills

Section III: Information Management

Improving Organizational Performance
Information Systems
Use of Data for Improvement

Section IV: Organizational Planning

Strategic Planning
Financial Planning

Section V: Human Resources

Management of Human Resources
Providing Competent Staff
Workplace Safety
Legal Issues in the Workplace
Staffing and Scheduling
Supervising and Evaluating the Work of Others

Section VI: Congratulations

Your Immediate Future

Kathleen Motacki, RN, MSN, Nursing Faculty, Farleigh Dickinson University, Teaneck, NJ, USA and Kathleen Burke, RN, PhD, Assistant Professor and Assistant Dean of Nursing, School of Nursing, Ramapo College, Mahwah, NJ, USA