Modalities for Massage and Bodywork - Elsevier eBook on VitalSource
,
Elsevier eBook on VitalSource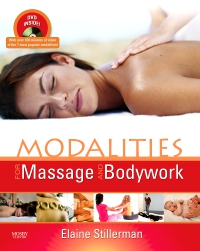 Or $0.00 with a valid access code
Gain a better understanding of the top modalities in massage practice with expert insight and a balanced, user-friendly approach! This current, consistently organized resource distills a wealth of information on 21 popular massage modalities into easy-to-read overviews detailing the essential principles behind each therapy. Identify the modalities that best apply to your clients, incorporate key concepts into your practice, and take the first steps toward specialization all with one helpful text!
Leading experts lend years of valuable knowledge and experience across a wide spectrum of massage modalities including prenatal, deep tissue, shiatsu, craniosacral, reflexology, and more.
A companion DVD demonstrates proper techniques for 7 top modalities with over 100 minutes of detailed video footage.
Consistently organized learning tools in each chapter ensure complete understanding of learning objectives, key terminology and relevant anatomy and physiology.
Self-assessment tests included at the end of every chapter help you gauge your strengths and identify areas requiring further study.
More than 265 full-color illustrations clarify difficult concepts and demonstrate body mechanics, concepts, and techniques.

1. Active Isolated Stretching - Joe Muscolino 2. Ayurvedic Therapies - Sonia Masocco 3. Cancer Massage - Bev Byers 4. Craniosacral Therapy - John Upledger with Sharon Desjarlais 5. Geriatric Massage - Susan Salvo 6. Infant and Pediatric Massage - Diana Moore 7. Lomi Lomi - Dane Silva and Makana Risser Chai 8. Manual Lymphatic Drainage - Robert Harris 9. Myofascial Release - Art Riggs with Keith Eric Grant 10. Neuromuscular Therapy and Deep Tissue Massage - Judith Walker Delany 11. Orthopedic Massage - Whitney Lowe 12. Polarity Therapy - Leslie Korn 13. Prenatal Massage - Elaine Stillerman 14. Reflexology - Laura Norman 15. Shiatsu - Sandy Anderson 16. Sports and Fitness Massage - Sandy Fritz 17. Structural Integration - Peter Schwind 18. Thai Massage - Richard Gold 19. Tragerwork - Jack Blackburn 20. Trigger Point Release - Judith Walker Delany 21. Tui Na - Terry Norman

DVD Table of Contents

DVD includes approximately 15 minutes of footage from the following modalities:

Craniosacral Therapy
Myofascial Release
NMT
Prenatal Massage
Reflexology
Shiatsu
Thai Massage

Elaine Stillerman, LMT