Large Animal Clinical Procedures for Veterinary Technicians - Elsevier eBook on VitalSource
,
Elsevier eBook on VitalSource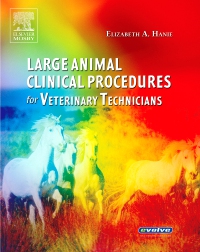 Or $0.00 with a valid access code
This full-color text provides complete coverage of many large animal clinical procedures. Not only does this book show why and how each procedure is performed, it shows the veterinary technician's role in preparing for, assisting in, and following up on each one. It's useful as both a practical, on-the-job reference, and as a textbook in veterinary technology programs.

Separate sections cover Equine, Ruminant, and Swine. Within each section, topics include restraint, diagnostic testing, bandaging, diagnostic imaging, surgery and anesthesia, fluid therapy, medical and surgical nursing by body system, and euthanasia and necropsy.
A full-color format ensures clarity and the educational value of illustrations.
Photographs and line drawings show restraint, bandaging, physical examination techniques, and diagnostic procedures.
A practical approach makes this text useful in clinical situations, so veterinary technicians, acting under instructions of veterinarians, can plan and follow through on procedures and treatment regimens for large animals.
Step-by-step descriptions help veterinary technicians understand medical and surgical procedures that they do not normally perform, including why, how, and the roles they fill.
Proper medical terminology and common/layperson terminology are both used, helping veterinary technicians communicate effectively with clients and other professionals.
A pictorial glossary of large animal instrumentation and equipment is included in the appendix.
AVMA accreditation is promoted through coverage of the essential large animal-related tasks in the CVTEA Manual of Accreditation for Veterinary Technology Programs.

Part One Equine Clinical Practices
1. Hospital/clinic procedures in equine practice
2. Equine history and basic physical examination
3. Equine physical restraint
4. Equine medication techniques
5. Diagnostic sampling in horses
6. External coaptation in horses
7. Diagnostic imaging of horses
8. Equine surgery and anesthesia
9. Fluid therapy in horses
10. Equine neonatal care
11. Common clinical procedures in horses
12. Equine euthanasia and necropsy techniques

Part Two Ruminant Clinical Practices
13. Ruminant restraint and basic physical examination
14. Diagnostic sampling in ruminants
15. Medication techniques in ruminants
16. Ruminant surgery and anesthesia
17. Ruminant neonatal care
18. Common clinical procedures in ruminants
19. Ruminant euthanasia and necropsy techniques

Part Three Swine Clinical Practices
20. Swine restraint and basic physical examination
21. Diagnostic sampling and medication techniques in swine
22. Swine surgery and anesthesia
23. Swine neonatal care
24. Common clinical procedures in swine

Glossary

Appendix A Large animal instruments and equipment

Appendix B Dental Tables

Elizabeth A. Hanie, DVM