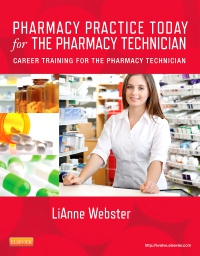 Publication Date:
08-26-2013
Pharmacy Practice Today for the Pharmacy Technician, 1st Edition
Paperback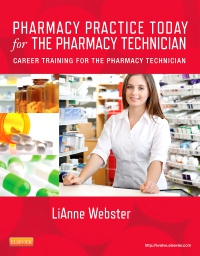 Publication Date:
08-26-2013
Free Shipping!
This item has low stock levels and may be back-ordered. We'll let you know if it is back-ordered, and you will not be charged until the item ships.
Covering everything from certification exam review to key skills, Pharmacy Practice for Today's Pharmacy Technician: Career Training for the Pharmacy Technician covers all of the knowledge needed by pharmacy technicians to provide exemplary patient care and build a successful career. It describes the role of the pharmacy technician in different practice settings, including the key tasks and skills set required to work in a community pharmacy, institutional pharmacy, or home health and long-term care/hospice care, then adds a road map taking you through certification, the job search, interviewing, and continuing education. Written by pharmacy technician educator and expert LiAnne Webster, this comprehensive text prepares you to succeed in this rapidly growing field.
In-depth coverage of medication safety and error prevention includes recent recommendations and actions taken by the Institute of Safe Medication Practices (ISMP) and The Joint Commission.
Content on intercultural competence addresses the changing demographics in our society.
A student journal on the Evolve companion website makes it easy to submit journal entries relating to your coursework and during externship rotations.
Review questions and critical thinking exercises are included at the end of each chapter.
Tech Notes provide practical, on-the-job hints.
Tech Alerts focus on warnings to watch for and avoiding common errors.

Unit I: An Introduction to Pharmacy Practice

Historical Review of Pharmacy Practice

Pharmacy Law and State Boards of Pharmacy: Examining Regulatory Standards that Govern Pharmacy Practice

The Study of Bioethics in Pharmacy Technician Practice

Pharmacy Professional Organizations

Medical Terminology — Learning the Language of the Medication Order

Unit II: Community Pharmacy Practice

The Structure and Workflow Processes of the Community Pharmacy Practice

Team Building and Professionalism in Pharmacy Practice

Pharmacology — The Study of Drugs and Their Effects

Introduction to Pharmaceutical Dosage Forms

Pharmaceutical Calculations

The Principles of Non-Sterile Pharmaceutical Compounding

Pharmacy Billing and Claims Processing

Cultural Competence: The Journey to Effective Communication in a culturally Diverse Society

Infection Control

Pharmacy Materials Management

Medication Safety and Error Prevention

Unit III: Institutional Pharmacy Practice

The Structure & Organization of Institutional Pharmacy Practice

Institutional Pharmacy Practice II: Drug Distribution Systems

Aseptic Admixture & Compounding Sterile Preparations

Green Pharmacy Practice

Preparing for What Lies Ahead: The Technician Career Path Overview

Identifying Quality Leadership and CQI Process Management in Pharmacy Practice

Certification Review for Pharmacy Technicians

LiAnne C. Webster