Lung and Heart Sounds Online (Access Code)
Online Course - Access Card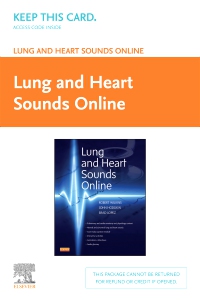 Free Shipping!
In Stock
This item has low stock levels and may be back-ordered. We'll let you know if it is back-ordered, and you will not be charged until the item ships.
Helping you develop skills in the accurate assessment of a patient's heart and lungs, Lung and Heart Sounds Online shows how to identify abnormalities in order to provide positive patient outcomes. Online modules include over 50 lung and heart sounds using narrated animations and audio to enhance your understanding of the skill of chest auscultation. Case studies allow you to test your diagnostic skills and apply auscultation to patient assessment in a safe online environment. Developed from content written by the late Robert L. Wilkins, John Hodgkin, M.D., and Brad Lopez, Lung and Heart Sounds Online lets you hear the most common normal and abnormal lung and heart sounds that you might encounter in practice.
Duration for access to this product is for the life of the edition.
Over 50 normal and abnormal lung and heart sounds, many with narration and visuals, help you learn the lung and heart sounds that may be encountered in the clinical setting.
Interactive exercises include labeling, matching, image association, fill-in, and more, with immediate feedback provided.
Animations and audibles simplify difficult concepts.
Case Study capstone module offers real-world practice of auscultation and diagnostic skills as well as clinical data for each case patient.
An Audio Library of the lung and heart sounds in the course provides an opportunity to listen and learn. A separate tab at the top of each screen allows easy access to all lung and heart sounds at any point during the course.
Activity Only and Media Only links let you choose the type of learning you prefer.
Audio glossary of key terms and definitions may be accessed at any point during the course.
End-of-module exams are automatically scored and reported to your instructor's grade book.

Module 1: Pulmonary Anatomy and Physiology

Module 2: Cardiac Anatomy and Physiology

Module 3: Bedside Patient Assessment

Module 4: Lung Sounds

Module 5: Heart Sounds

Case Study Capstone (12 case studies)

Robert L. Wilkins, PhD, RRT, FAARC, Robert L. Wilkins, PhD, RRT, FAARC
Adjunct Clinical Professor of Respiratory Care
University of Texas Health Science Center at San Antonio, John E. Hodgkin, MD, Medical Director, Pulmonary Rehabilitation Program, Redbud Community Hospital, Clearlake, CA; Medical Director, Smoke-Free Life Program, St. Helena Center for Health, St. Helena, CA and Brad Lopez, MS, RRT