Study Guide and Laboratory Exercises for Technology for Diagnostic Sonography
,
Paperback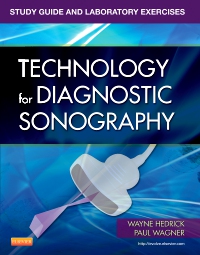 Free Shipping!
This item has low stock levels and may be back-ordered. We'll let you know if it is back-ordered, and you will not be charged until the item ships.
Gain a firm foundation for sonography practice! Corresponding to the chapters in Hedrick's Technology for Diagnostic Sonography, this study guide focuses on basic concepts to help you master sonography physics and instrumentation. It includes laboratory exercises designed to teach you how to operate a scanner, and comprehensive review questions allow you to assess your knowledge. Not only will you learn the theoretical knowledge that is the basis for ultrasound scanning, but also the practical skills necessary for clinical practice.
Laboratory exercises teach you the function of operator controls and how to optimize image quality and practice ALARA, and include step-by-step instructions for scanner operation, for hands-on application and practice.

250 review questions help you assess your understanding of sonography physics and instrumentation, and identify areas of knowledge that may need further study.
Key Points at the beginning of each chapter emphasize the most important sonography principles that you need to understand and apply.

Section I: Fundamental Concepts

1. Properties of Sound Waves

2. Interactions of Ultrasound with Tissue

3. Intensity

4. Single Element Transducers: Properties

5. Single Element Transducers: Transmission and Echo Reception

6. Static Imaging

7. Image Formation in Real-Time Ultrasound

8. Real-Time Ultrasound Transducers

9. Real-Time Ultrasound Instrumentation

10. Digital Signal and Image Processing

11. Image Quality in Real-Time Ultrasound

12. Real-Time Image Artifacts

13. Doppler Physics and Instrumentation

14. Pulsed-Wave Doppler Spectral Analysis

15. Doppler Imaging

16. M-Mode

17. Clinical Safety

18. Performance Testing

Appendix A: Computer

Appendix B: Hemodynamics

Appendix C: Contrast Agents

Section II: Laboratory Exercises

Lab 1 Display Depth, Frame Rate, Freeze Frame, Cine Loop

Lab 2 Overall Gain and Output Power

Lab 3 Time Gain Compensation

Lab 4 Frequency and Penetration

Lab 5 Transmit Focus

Lab 6 Magnification (Write Zoom)

Lab 7 Dynamic Range

Lab 8 Persistence

Lab 9 Gray-Scale Mapping

Lab 10 Distance and Area Measurements

Lab 11 Doppler Controls I

Lab 12 Doppler Controls II

Lab 13 Doppler Angle to Flow

Lab 14 Nyquist Limit and Aliasing

Lab 15 Color Controls I

Lab 16 Color Controls II

Lab 17 Application Presets

Lab 18 Tissue-Mimicking Pphantom

Section III: Review Tests

Review Questions

Answers to Review Questions with Explanations

Glossary of Key Terms

Wayne R. Hedrick, PhD, Professor, Medical Radiation Biophysics, College of Medicine, Northeastern Ohio University, Rootstown, OH, USA; Certified Diagnostic Radiological and Medical Nuclear Physicist, Aultman Hospital, Canton, OH, USA and Paul R. Wagner, BS, RDMS, RDCS, RVT, Program Director, Diagnostic Medical Sonography
South Hills School of Business and Technology
State College, Pennsylvania