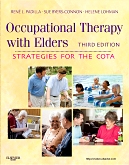 Evolve Resources for Occupational Therapy with Elders, 3rd Edition
Resources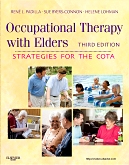 Free with purchase of new corresponding textbook
Available Evolve Resources include:
Additional resources
Glossary
Glossary learning activities
References linked to Medline
Some content has been removed from this site because Flash is no longer supported on web browsers.
Sue Byers-Connon, BA, COTA/L, ROH, Mt. Hood Community College, Gresham, OR, Rene Padilla, MS, OTR/L, Creighton University, Omaha, NE and Helene Lohman, OTD, OTR/L, FAOTA, Professor, Department of Occupational Therapy, Creighton University, Omaha, Nebraska.
Free with purchase of new corresponding textbook