Concepts for Nursing Practice - Elsevier eBook on VitalSource
,
Elsevier eBook on VitalSource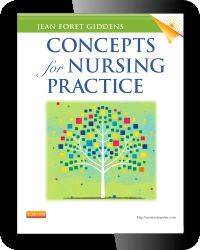 Or $0.00 with a valid access code
Concepts for Nursing Practice is a groundbreaking new title by Jean Giddens, a leading expert on conceptual teaching and learning in nursing education. Offered as digtial book plus print copy package, Concepts for Nursing Practice uses a simplified, intuititve approach to connect concepts across the entire nursing curriculum, making this an ideal companion for Elsevier nursing textbooks. Fifty-three of the most important concepts, written by leading subject matter experts, are organized into three units. Unit One covers patient profile concepts, which are the concepts that lay the foundation for a patient-centered approach to nursing. Unit Two, the core of the content, emphasizes biophysical and psychosocial concepts that relate to individuals seeking health care. The focus of these concepts is on the health-and-illness continuum across the lifespan. Unit Three covers concepts related to professionalism and the whole of the healthcare system related to the delivery of health care, professional aspects of nursing, and health policy. This unit also covers the QSEN competencies. Original full-color illustrations and model cases depict the principles of each concept and show how concepts are related. A list of exemplars in each concept chapter convey the most common health conditions or situations pertaining to the concept.
Content written by leading experts and edited by Dr. Jean Giddens, a nationally-recognized concept-based curricula expert, ensures the most authoritative coverage.
53 of the most important nursing concepts are clearly defined and well-illustrated.
Consistent format organizes concepts by patient-profile, health and illness, and professional nursing and health care.
Exemplar boxes identify the most important lifespan and clinical setting content.
4-color design and all-new concepts and concept illustrations visually depict the principles of each concept and how concepts relate to one another.
Clinical Nursing Skills boxes identify related nursing procedures to give you a better understanding skills pertinent to concepts.

UNIT ONE: PATIENT PROFILE CONCEPTS

THEME ONE: ATTRIBUTES AND RESOURCES

CONCEPT 1: Development

CONCEPT 2: Functional Ability

CONCEPT 3: Family Dynamics

THEME TWO: PERSONAL PREFERENCES

CONCEPT 4: Culture

CONCEPT 5: Motivation

CONCEPT 6: Adherence

UNIT TWO: HEALTH AND ILLNESS CONCEPTS

THEME THREE: HOMEOSTASIS AND REGULATION

CONCEPT 7: Fluid and Electrolyte Balance

CONCEPT 8: Acid-Base Balance

CONCEPT 9: Thermoregulation

CONCEPT 10: Cellular Regulation

CONCEPT 11: Intracranial Regulation

CONCEPT 12: Glucose Regulation

CONCEPT 13: Nutrition

CONCEPT 14: Elimination

THEME FOUR: OXYGENATION AND HEMOSTASIS

CONCEPT 15: Perfusion

CONCEPT 16: Gas Exchange

CONCEPT 17: Clotting

THEME FIVE: SEXUAL/REPRODUCTIVE

CONCEPT 18: Reproduction

CONCEPT 19: Sexuality

THEME SIX: PROTECTION AND MOVEMENT

CONCEPT 20: Immunity

CONCEPT 21: Inflammation

CONCEPT 22: Infection

CONCEPT 23: Mobility

CONCEPT 24: Tissue Integrity

CONCEPT 25: Sensory Perception

CONCEPT 26: Pain

THEME SEVEN: COPING AND STRESS TOLERANCE

CONCEPT 27: Stress

CONCEPT 28: Coping

THEME EIGHT: EMOTION

CONCEPT 29: Mood and Affect

CONCEPT 30: Anxiety

THEME NINE: COGNITIVE FUNCTION

CONCEPT 31: Cognition

CONCEPT 32: Psychosis

THEME TEN: MALADAPTIVE BEHAVIOR

CONCEPT 33: Addiction

CONCEPT 34: Interpersonal Violence

UNIT THREE: PROFESSIONAL NURSING AND HEALTH CARE CONCEPTS

THEME ELEVEN: ATTRIBUTES/ROLES OF NURSE

CONCEPT 35: Professionalism

CONCEPT 36: Clinical Judgment

CONCEPT 37: Leadership

CONCEPT 38: Ethics

CONCEPT 39: Patient Education

CONCEPT 40: Health Promotion

THEME TWELVE: CARE COMPETENCIES

CONCEPT 41: Communication

CONCEPT 42: Collaboration

CONCEPT 43: Safety

CONCEPT 44: Technology and Informatics

CONCEPT 45: Evidence

CONCEPT 46: Health Care Quality

THEME THIRTEEN: HEALTH CARE DELIVERY

CONCEPT 47: Care Coordination

CONCEPT 48: Caregiving

CONCEPT 49: Palliation

THEME FOUREEN: Health Care Infrastructures

CONCEPT 50: Health Care Organizations

CONCEPT 501: Health Care Economics

CONCEPT 52: Health Policy

CONCEPT 53: Health Care Law

Jean Foret Giddens, PhD, RN, FAAN, Robert Wood Johnson Foundation Executive Nurse Fellow, Dean and Professor, School of Nursing, Virginia Commonwealth University, Richmond, Virginia