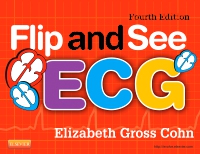 Publication Date:
03-01-2012
Flip and See ECG - Elsevier eBook on VitalSource, 4th Edition
Elsevier eBook on VitalSource
Publication Date:
03-01-2012
Or $0.00 with a valid access code
When it comes to learning ECG interpretation, there's simply no faster or easier way to master basic rhythms than this unique book. Using a fun and easy-to-understand writing style, this updated new edition uses humor, cartoons, and personal stories to walk you through the entire ECG process: from finding a heartbeat, to monitoring an electrocardiogram, to interpreting the heart rhythm. A unique Flip and See section allows you to view normal ECGs on one side of the page and abnormal ECGs on the other, along with concise text that clearly explains the differences between them. Plus, the completely redesigned Cohn's Pocket Guide for ECG Interpretation aids both students and practitioners in rhythm interpretation.
Lay-flat spiral binding makes it easy to use anywhere, and the small size fits into a lab coat pocket.

Unique Flip and See section at the end of the book allows you to see each rhythm side-by-side with a normal ECG rhythm, while a written walkthrough explains the important differences between the rhythms.

Excuse Me! features highlight frequently asked student questions with easy-to-understand answers.
Conversational language and clear illustrations and cartoons make the information easy to remember and fun to learn.

New and updated information across the entire book includes coverage of new pacemaker strips and now includes 12-lead interpretation and 12-lead axis identification.

New cartoons have been added to make key points memorable and entertaining.

Updated algorithms reflect the new 2010 ECC Guidelines.

Completely redesigned Cohn's Pocket Guide for ECG Interpretation, a plastic heart rate ruler, aids both students and practitioners in rhythm interpretation.
Expanded appendix provides illustrations of ECG complexes as they relate to heart damage.

Symbols Used in This Book

How to Approach ECGs

1. How the Heart Works

2. The ECG

3. Introduction to the Rhythms

4. How to Interpret ECGs

5. Introduction to 12-Lead Interpretation (NEW!)

6. How to Use the Flip and See Portion of This Book

7. Rhythms

8. Glossary

9. Appendix and ACLS Algorithms

Elizabeth Gross Cohn, RN, MS, NP, ACNP, DNSc, CEN, EMT-CC, Adelphi University, Garden City, NY