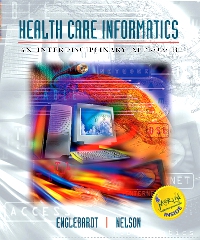 Publication Date:
11-05-2001
Healthcare Informatics Elsevier eBook on VitalSource, 1st Edition
Elsevier eBook on VitalSource
Publication Date:
11-05-2001
Or $0.00 with a valid access code
Informatics the study of the use of computer hardware, software, systematic languages, and data manipulation to collect and apply information is united with health care in this new interdisciplinary textbook. It focuses on topics in informatics relevant to all fields of health care, in a textbook format complete with chapter outlines, objectives, key terms, and discussion questions. A unique online supplement complements the book to offer complete, electronic support for both instructors and students. Written by experts in health care informatics, this text provides a comprehensive overview of all the major concepts in informatics, discussing trends and innovative strategies from a contemporary, mainstream perspective.
FOUNDATIONS OF HEALTH CARE INFORMATICS · Major Theories Supporting Health Care Informatics · Computer, Information, and Health Care Informatics Literacy · Understanding Databases · Supporting Administrative Decision Making · Supporting Clinical Decision MakinG · HEALTH CARE INFORMATION SYSTEMS · The Purpose, Structure, and Functions of Health Care Information Departments · Applications for Health Care Information Systems · Strategic and Tactical Planning for Health Care Information Systems · The Life Cycle of a Health Care Information System · Electronic Health Records · USING TECHNOLOGY TO DELIVER HEALTH CARE EDUCATION · Technological Approaches to Communication · Technology and Distributed Education · e-Health Trends and Technologies. The Impact of the Internet on Health Care Providers and Patients · The Impact of Informatics on the Sociocultural Environment of Health Care · The Impact of Health Care Informatics on the Organization · Human-Computer Interaction in Health Care Organizations · The Implications of Information Technology for Research · Infrastructure to Support Health Care Informatics·Technical Standards Us ed in Health Care Informatics · Professional Health Care Informatics Standards · The Implications of Accreditation and Governmental Regulations for Health Care Informatics · Protection of Health Care Information · YESTERDAY, TODAY, AND TOMORROW · Unit 6 Yesterday, Today, and Tomorrow · The History of Health Care Informatics · The Future of Health Care Informatics Education · Future Directions in Health Care Informatics · Glossary

Sheila P. Englebardt, PhD, RN, CAN, Director, Center for Instructional Technology and Educational Support, Clinical Associate Professor, School of Nursing, The University of North Carolina School of Nursing Chapel Hill, Chapel Hill, NC and Ramona Nelson, PhD, RN, BC, Professor, Co-Director, Health Care Informatics Program, Slippery Rock University, Slippery Rock, PA