Essentials of Assistive Technologies - Elsevier eBook on VitalSource
,
Elsevier eBook on VitalSource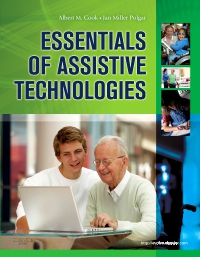 Or $0.00 with a valid access code
Master the assistive strategies you need to make confident clinical decisions and help improve the quality of life for people with disabilities with this new essentials text. Based on the Human Activity Assistive Technology (HAAT) model developed by Dr. Cook, the book provides the most important coverage of the devices, services, and practices that comprise assistive technology and focuses on the relationship between the human user and the assisted activity within specific contexts. Case studies, illustrations of assistive devices, review questions, and well-developed learning objectives help you focus on the most important areas of assistive technology application.
UNIQUE! OTA focus provides you with the specific information occupational therapy assistants need to know to implement and utilize assistive technologies.
Comprehensive coverage includes all areas of assistive technologies.

The AT industry
A historical perspective on the industry
Relevant legislation
Issues of professional practice
Service delivery in assistive technologies
General purpose assistive technologies
Specific areas of application for assistive technologies
And more

Content derived from market leader gives you similar chapters and organization to the Principles text, but has more of a focus on the practical skills and knowledge needed for the implementation of AT.

1. Introduction and Overview

2. A Framework for Assistive Technologies

3. Disabled Human User of Assistive Technologies

4. Seating Systems as Extrinsic Enablers for Assistive Technologies

5. Making the Connection: User Inputs for Assistive Technologies

6. Control Interfaces for Assistive Technologies

7. Computer Access Ð Augmenting the Keyboard and Mouse

8. Sensory Aids for Persons with Visual Impairments

9. Sensory Aids for Persons with Auditory Impairments

10. Assistive Technologies to Aid Cognitive Function

11. Augmentative and Alternative Communication

12. Technologies That Enable Mobility

13. Technologies for Transportation and Driving

14. Technologies That Aid Manipulation and Control of the Environment

Albert M. Cook, PhD, PE (ret.), Professor Emeritus
Department of Communication Sciences and Disorders
University of Alberta
Edmonton, AB
Canada and Janice Miller Polgar, PhD, OT, Professor Emerita
School of Occupational Therapy
Western University
London, Ontario
Canada