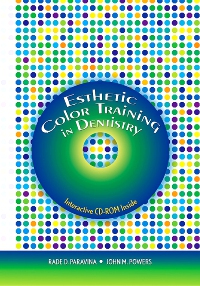 Publication Date:
07-14-2004
Esthetic Color Training in Dentistry - Elsevier eBook on VitalSource, 1st Edition
Elsevier eBook on VitalSource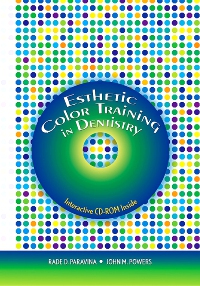 Publication Date:
07-14-2004
Or $0.00 with a valid access code
This book/CD-ROM helps users master the art of color selection to achieve the best esthetic results in dental procedures, such as those related to cosmetic dentistry, restorative dentistry, and prosthodontics. It covers everyday dental techniques that require the dentist to precisely match dental materials to patients' teeth. The book's nine easy-to-read chapters serve as a basis for color training - from colorimetry and the properties of natural teeth, to the specifics of color perception and reproduction of color. The accompanying CD-ROM uses interactive color-block exercises to train and test users on discerning lightness, hue, and chroma changes, as well as total color differences.
Short, easy-to-read chapters present only the most important concepts of each topic, allowing for quick completion and comprehension.
The newest techniques in esthetic dentistry are presented, with implications for the future of each topic.
Full-color, high-quality art program serves as an instrumental tool in learning about color and shading, providing color images for reference.
A total of 31 expert contributors from a variety of dental schools lend their experience and knowledge of color and dental materials, ensuring accuracy of all material.
Interactive "drag-and-drop" exercises on CD-ROM sharpen users' color-matching skills by challenging them to arrange color blocks.
CD-ROM exercises are logically ordered from least complex to most difficult, so that as users master topics, the next exercises expand upon concepts and challenge users to recall concepts and techniques.
CD-ROM exercises can be performed multiple times for unlimited practice.

Part I: Color and Appearance
1. Color
The Nature of Color
The Physical Specification of Object Color
The Human Color Vision System
Color Perception
2. Colorimetry
Color Specification
Color Difference Evaluation
Color Measuring Instruments
3. Other Appearance Attributes
Translucency and Opacity
Gloss
Surface Roughness
Opalescence
Iridescence
Fluorescence
Phosphorescence
Part II: Natural Teeth And Esthetic Dental Materials
4. Natural Teeth
Anatomy And Histology Of Teeth
Optical Properties Of Human Teeth
5. Esthetic Dental Materials
Dental Ceramics
Resin Composites
Denture Teeth And Prefabricated Teeth
Denture Base Materials
Tooth Bleachig Materials
Glass Ionomer Restorative Materials
Hybrid Ionomer Restorative Materials
Maxillofacial Materials
Orthodontic Materials
Pediatric Dentistry Materials
Interim Restorative Materials
Standardization Of Color And Appearance Of Dental Materials

Part III: Color And Appearance –Matching, Communication & Reproduction
6. The Foundation Of Color Education
Color Vision And Dentistry
Education In Color And Appearance
Color Training
7. Color Matching
Shade Guides
Color Matching Conditions
Color Matching Method
Instruments For Color Maching In Dentistry
Color Formulation In Dentistry
8. Communication Of Color And Appearance
Verbal/Written Instructions
Custom Made Or Modified Shade Guides/Tabs
Traditional Film Photograhy
Slide Films
Digital Images
Additional Considerations
9. Reproduction Of Color And Appearance
Indirect Restorative Materials
Direct Restorative Materials (Resin Composites)
Color Correction Of Indirect Restorations

Part IV: DVD Instruction Manual
Installing The Program
Program Description
Color Training Method
Tips
Conclusion

Rade Paravina and John M. Powers, PhD, Senior Vice President and Editor, The Dental Advisor, Dental Consultants, Inc., Ann Arbor, Michigan; Professor of Oral Biomaterials, Department of Restorative Dentistry and Biomaterials, University of Texas Dental Branch at Houston, Houston, Texas