Mosby's Nursing Video Skills - Basic Skills DVD
,4th Edition
DVD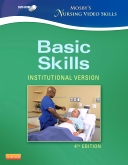 Free Shipping!
This item has low stock levels and may be back-ordered. We'll let you know if it is back-ordered, and you will not be charged until the item ships.
This version of the videos is for institutional purchase, and includes networkable files that are loaded onto your institution's server for student access.
With high-definition videos demonstrating how to perform nursing procedures, Mosby's Nursing Video Skills provides up-to-date, step-by-step instructions for the most important nursing skills. Printable procedure checklists and interactive screens of required equipment make it easier to learn and remember skills, and new animations show what's happening inside the patient's body. For each skill, NCLEX exam-style review questions help you assess your knowledge. Nursing video skills DVDs are compatible with all computers, tablets, and smartphones!
Procedure videos clearly and accurately demonstrate how to perform each skill, and include printable procedure guidelines.
Checklists in PDF format are included for each skill.
A consistent format for each skill provides easy access to information:

Safety includes key safety considerations for the specific skills.
Delegation clarifies the RN's role and the tasks that may be assigned to other personnel.
Equipment features a hot-spot photo of all equipment required for a procedure, identifying each piece when rolled over by the cursor.
Documentation provides guidelines and examples of what and how to document care as well as the patient's response.
Follow-up care outlines appropriate assessment, evaluation, and interventions.
NCLEX exam-style review questions for each skill include rationales for all options to help you review and evaluate your comprehension.

NEW! Audio of lung sounds and cardiac sounds makes it easier to learn the measurement of respirations and the pulse.
NEW! Animations are included for skills in which much of the action is unseen, such as catheterization, intubation, and suctioning.
New Making a Surgical Bed skill is added to the Basic Skills DVD.

Basic Skills

Basic Infection Control

Performing hand hygiene

Using Personal Protective Equipment

Bathing

Performing a complete and partial bed bath

Assisting with a tub bath or shower

Performing back massage

Performing perineal care for the female patient

Performing perineal care for the male patient

Bedmaking

Making the unoccupied bed

Making the occupied bed

NEW! Making the surgical bed

Safe Patient Handling

Assisting with moving a patient in bed

Assisting with positioning a patient in bed

Transferring from bed to wheelchair using a transfer belt

Transferring from bed to a stretcher

Performing passive range-of-motion exercises

Applying elastic stockings

Assisting with ambulation using a gait belt

Using a sequential compression device

Using a hydraulic lift

Assisting with Elimination

Assisting with a urinal

Assisting with a bedpan

Applying a condom catheter

Administering a cleansing enema

Providing catheter care

Nutrition & Fluids

Assisting with meals

Taking aspiration precautions

Measuring intake and output

Personal Hygiene & Grooming

Performing oral hygiene for an unconscious patient

Cleaning dentures

Performing hair care and shampooing in bed

Shaving a male patient

Performing nail and foot care

Assisting with gown change

Vital Signs

Taking a temperature

Assessing radial pulse

Assessing apical pulse

Assessing apical-radial pulse

Assessing respiration: rate, rhythm, and effort

Obtaining blood pressure by the one-step method

Obtaining blood pressure by the two-step method

Measuring oxygen saturation with pulse oximetry

Assessing pain

Measuring height and weight

Restraints and Alternatives

Using restraint alternatives

Applying restraints