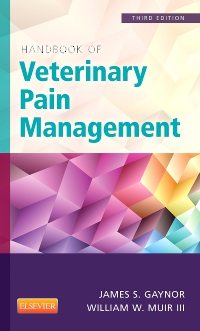 Handbook of Veterinary Pain Management
, 3rd Edition
Paperback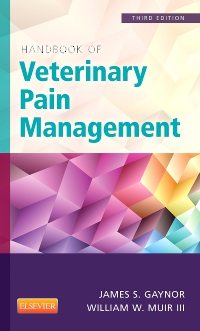 In Stock
This item has low stock levels and may be back-ordered. We'll let you know if it is back-ordered, and you will not be charged until the item ships.
Trust the Handbook of Veterinary Pain Management, 3rd Edition to guide your students in providing effective pain management in the animals they treat. This user-friendly handbook contains the most up-to-date and clinically relevant information on analgesic drugs and pain management in dogs, cats, birds, reptiles, ferrets, and rabbits. It specifically covers the areas of pain assessment, pharmaceutical and non-pharmaceutical treatment options, guidelines for managing acute and chronic pain, and unique aspects of pain management. This edition also incorporates expanded information on cats, exotics, the latest drugs, and more to keep your students on top of today's best practices in veterinary pain management.
The latest information on complementary and alternative strategies for pain management offers the guidance to help you incorporate non-pharmacologic treatments into their pain management programs.
Numerous boxes and tables summarize pharmacologic protocols and clinical applications, with dosages, indications, contraindications, and side effects to provide you with the comprehensive drug information needed to find the most effective and appropriate treatment.
User-friendly format helps you quickly and easily find essential information.
Case studies illustrating realistic clinical scenarios help you learn how to assess and manage pain in the clinical setting.

NEW! Eight new chapters include the latest information on:

the human-animal bond
local and regional techniques
preventive and multimodal analgesia
energy modalities
acupuncture
physical examination with emphasis on isolating and locating pain
therapeutic goals
pain in laboratory animals

NEW! Completely updated drug information, with new agents, doseforms, and routes provides the most current pain management therapies for use in the clinical setting.
NEW! Expanded sections on the cat and exotics address the growing popularity of these pets by providing additional species-specific information.

1. The Human-Animal Bond and Pain
2. Nociception and Pain Mechanisms
3. Pain: Physiologic Consequences and Stress
4. Pain Nomenclature
5. Pain Behaviors and Pain Assessment Scales
6. Quality of Life Assessment
7. Drug Classes and Drugs Used for Pain Therapy: An Overview
8. NSAIDs
9. Opioids
10. Alpha-2s
11. Local Anesthetics
12. Local and Regional Anesthetic Techniques
13. Corticosteroids
14. Other "Drugs" and Injectable Modalities
15. Drug Delivery Methods
16. Preventative" and "Multimodal" Analgesia; "Masking" and Pitfalls: Theory and Consequences
17. Energy Modalities: Therapeutic Laser and Pulsed Electromagnetic Field Therapy
18. Acupuncture
19. Physical Rehabilitation and Exercise
20. Physical Examination with Emphasis on Isolating and Detecting Pain
21. Therapeutic Goals
22. Acute Pain Cases
23. Chronic Pain Cases
24. Cat Specific Considerations
25. Rabbit and Small Mammal Specific Considerations
26. Bird Specific Considerations
27. Reptile Specific Considerations
28. Regulations in Pain and Distress in Laboratory Animals

James S. Gaynor, DVM, MS, DACVA, DAAPM, Certified Veterinary Acupuncturist, International Veterinary Acupuncture Society; Director, Animal Anesthesia and Pain Management Center, Colorado Springs, CO and William W. Muir, DVM, PhD, Regional Director, American Academy of Pain Management, Veterinary Clinical Pharmacology Consulting Services, Columbus, OH
In Stock
This item has low stock levels and may be back-ordered. We'll let you know if it is back-ordered, and you will not be charged until the item ships.