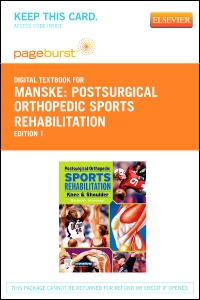 Publication Date:
08-04-2006
Postsurgical Orthopedic Sports Rehabilitation - Elsevier eBook on VitalSource (Retail Access Card), 1st Edition
Elsevier eBook on VitalSource - Access Card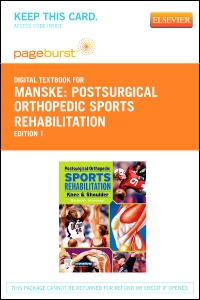 Publication Date:
08-04-2006
Or $0.00 with a valid access code
Free Shipping!
This item has low stock levels and may be back-ordered. We'll let you know if it is back-ordered, and you will not be charged until the item ships.
Written by well-known experts in a reader-friendly style, this is the only book to focus specifically on post-surgical guidelines for successful rehabilitation of the knee and shoulder for sports patients. Content covers basic concepts related to soft tissue healing, as well as core concepts in sports medicine rehabilitation, all of which lay the groundwork for discussions of specific protocols. Detailed descriptions of the latest post-surgical procedures for various knee and shoulder pathologies equip readers with essential knowledge needed to recommend the most effective treatment plans. Includes a separate section on multiple ligament knee injuries.
Numerous photos and radiographs of topics discussed in the text serve as excellent visual references in the clinical setting.
Detailed descriptions of the most current surgical protocols for various knee and shoulder pathologies help readers recommend the best treatment based on proven rehabilitation plans.
The inflammatory response is described, with regard to its role in soft tissue healing following surgical procedures of the knee and shoulder.
Protocols based on the most recent research available promotes evidence-based practice.
A chapter on rotator cuff injuries includes authoritative, up-to-date information on this topic.
A chapter on cartilage replacement focuses on the "nuts and bolts" of rehabilitation for this common injury, offering current, hands-on information about one of the fastest changing treatment protocols.
Contributors are expert therapists and physicians - respected leaders in their field.
Each chapter highlights post-op guidelines and protocols in a consistent format that's immediately accessible and easy to reference.
Comprehensive information on soft tissue healing is presented.
A separate section on multiple ligament knee injuries presents hard-to-find information that's rarely covered in other resources or literature.

SECTION I: Concepts in Post-Surgical Management
1. The Inflammatory Process and Post-Surgical Soft Tissue Healing
2. Post-Surgical Immobilization vs. Mobilization
3. Pre- Operative and Post Surgical Musculoskeletal Examination of the Knee
4. Pre-Operative and Post Surgical Musculoskeletal Examination of the Shoulder
5. Training for Strength Power and Endurance
6. Propriocepive Neuromuscular Control: Implications for the Post-Operative Knee Patient
7. Propriocepive Neuromuscular Control: Implications for the Post-Operative Shoulder Patient

SECTION II: Knee
Ligament Injuries
8. Anterior cruciate ligament reconstruction using Ipsilateral patellar tendon autograft
9. Anterior Cruciate Ligament reconstruction using Contralateral patellar tendon autograft
10. Anterior cruciate ligament reconstruction using the hamstring/Gracillis Autograft
11. Anterior cruciate ligament reconstruction using an allograft source
12. Complications with Anterior cruciate ligament reconstruction
13. Strain Gauge Studies and Their Implications to Post-operative ACL Rehabilitation
14. Posterior cruciate ligament reconstruction and rehabilitation
15. Combination ligament injuries
16. Prevention of rupture or re-rupture of the anterior cruciate ligament.
Knee Meniscus Injuries
17. Meniscus: Meniscectomy, meniscus repair, and meniscus allograft replacement
18. Complications with Meniscus surgery.
Knee Articular Cartilage Injuries
19. Cartilage repair: Chondroplasty, abrasion arthroplasty, microfracture
20. OATS, Autologus Chondrocyte Implantation cartilage replacements, Mosaicplasty
21. Complications with cartilage repairs
22. Proximal and distal realignment procedures
23. Arthroscopic Lateral Release
Knee Tendon Ruptures
24. Quadriceps & Patellar Tendon Ruptures

SECTION III: Shoulder
Shoulder Acromioclavicular Joint Injuries
25. Acromioclavicular Joint – Mumford and Weaver-Dunn
26. Anterior capsulolabral reconstruction
27. Capsular shift procedures – Neer, Multi Directional Instabilities
28. Bankart Repair open and arthroscopic
29. Thermal/Laser capsulorrhaphy
30. SLAP lesions
Shoulder Rotator Cuff Repairs
31. Acromioplasty, Subacromial Decompression
32. Rotator cuff repair: mini open, open
33. Rotator Cuff Repair: All Arthroscopic
34. Long Head of Biceps Tendonesis and Tendon Ruptures

Robert C. Manske, PT, DPT, SCS, MEd, ATC, CSCS, Professor and Chair, Department of Physical Therapy, Wichita State University, Wichita, Kansas