Deep Tissue Massage Treatment - Elsevier Digital Book (Retail Access Card)
,
Elsevier eBook on VitalSource - Access Card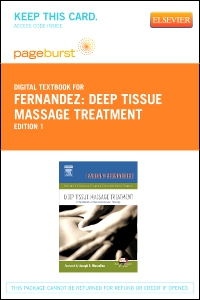 Or $0.00 with a valid access code
Free Shipping!
This item has low stock levels and may be back-ordered. We'll let you know if it is back-ordered, and you will not be charged until the item ships.
Presented in a clear and easy-to-use format, this book provides basic assessment of neuromuscular conditions and an overview of techniques specific to deep tissue massage. The most commonly used techniques are covered with illustrations and hints for performing techniques. The bulk of the book presents treatment routines for the 22 most commonly encountered neuromuscular conditions. Routines are outlined step-by-step and clearly describe exactly what therapists need to do to treat a particular condition. Includes a DVD-ROM with over 1 hour of video showing the techniques described in the text.
The first text on the market that delineates deep tissue routines or treatments.
Provides techniques, routines, and procedures for the treatment of a wide array of neuromuscular conditions, including carpal tunnel syndrome, tennis and golfer's elbow, frozen shoulder, rotator cuff dysfunctions, thoracic outlet syndrome, whiplash, migraines, kyphosis, lordosis, and scoliosis, among others.
Each chapter on conditions follows a template with a definition of the condition, a list of associated symptoms, indications and contraindications for massage, and a procedure/routine.
Routines are outlined step-by-step and clearly describe for the therapist exactly what needs to be done to treat a particular condition.
Heavily illustrated, with many photos of each technique and routine, as well as some photos illustrating conditions.
Photos of indicated and contraindicated stretches with a brief explanation of why they are indicated or contraindicated.
Includes DVD-ROM with over 1 hour of video showing techniques desribed in the text.
An excellent clinical companion for massage therapists.

Part I IV Basic Assessment and Techniques
1. Basic Gait Assessment
Postural Analysis
Techniques
Observation
2. Trigger Point
Inactive
Active
Locations
Palpation
Release methods
3. Friction
Definition
Cross Fiber
Deep Transverse Friction
Circular Friction
With Fiber Friction
4. MFR Myofascial Release
Definition
Location
Release techniques

Part II IV Treatment Routines
5. Headaches Routine
Definition and Symptoms
Indications
Contraindications
Procedures
NOTE: Each chapter in this part contains these same sub-sections
6. Migraines Routine
7. TMJ (Temporal Mandibular Joint) Routine
8. TOS (Thoracic outlet Syndrome) Routine
9. Torticollis Routine
10. Whiplash Routine
11. Frozen Shoulder Routine
12. Rotator Cuff Routine
13. Lateral Epicondylitis (Tennis Elbow) Routine
14. Medial Epicondylitis (Golfers Elbow) Routine
15. CTS (Carpel Tunnel Syndrome) Routine
16. Kyphosis Routine
17. Scoliosis Routine
18. Lordosis Routine
19. Iliopsoas Routine
20. Abdominal Massage (Constipation) Routine
21. Piriformis Routine
22. Sciatica Routine
23. Quadriceps Routine
24. IT Band (Iliotibial Tract) Routine
25. Knee Routine
26. Shin Splint Routine
27. Plantar Fasciitis Routine

Part III IV Stretches
28. Stretches
Definition
Indicated
Contraindicated

Enrique Fabian Fernandez, NMT